politics
Five Star's Di Maio Says Italy Deal Still Needs Prime Minister
By
Five Star's Di Maio Says Italy Deal Still Needs Prime Minister
By
Parties yet to say who they'll nominate to be prime minister

League and Five Star plan tax cuts, more spending for poor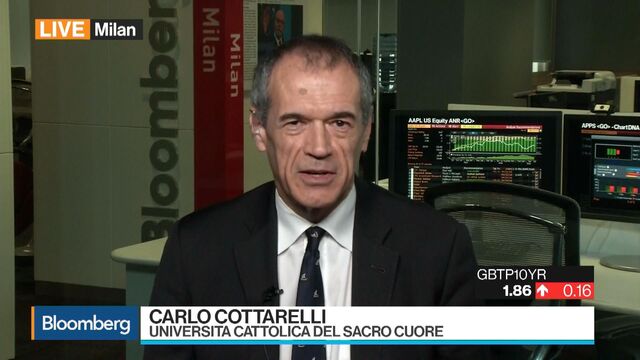 Five Star leader Luigi Di Maio said Italy's populist parties have yet to agree on a candidate for prime minister though most of the outstanding issues for his coalition pact with the League have been settled.
Di Maio said he expects the deal to be settled later on Thursday. Earlier a Five Star official said that the agreement had been sealed. League officials said no deal had yet been reached on the program or on the premiership, newswire Ansa said. The League did not respond to a request for comment.

"I think that this evening we will close the contract," Di Maio said. "We are still reasoning. The largest part of issues are solved."
Thirty-one-year-old Di Maio has been locked in talks with Matteo Salvini, 45, of the anti-immigrant League since last week. Earlier briefings suggested they will slash the main tax rate for companies and individuals, introduce a basic income for poorer Italians, and roll back the pension reform that helped stabilize Europe's biggest public debt pile during the crisis. Such a deal could throw away the gains from years of painful austerity.
Bond markets have fallen this week in anticipation of an agreement with the 10-year spread reaching 158 basis points earlier on Thursday.
The parties still haven't said who they'll nominate as prime minister. Both leaders plan to ask party members to vote on the plan before they present it to President Sergio Mattarella.
The prospect of the first populist government in a founding member will send tremors through a European Union that scraped through the euro-area debt crisis and found fragile unity after the shock of Brexit, only to be confronted with multiple challenges by U.S. President Donald Trump.
The two political outsiders seized the initiative at March's election as the old order buckled. The center-left Democratic Party of ex-premier Matteo Renzi suffered its worst ever result. Silvio Berlusconi, 81, was eclipsed as leader of the center-right by the more hard-line League. Five Star became the single biggest party.
If the voters back the two leaders' efforts, the ball will go into Mattarella's court. Di Maio and Salvini are expected to report back to the head of state, whose task it is to name a premier, early next week. Mattarella, 76, a former constitutional court judge, has signaled he could play an interventionist role in vetting their policy plans, as well as their candidates for the premiership and ministerial posts.
If the Five Star-League plan were to fall apart, Mattarella could revert to an earlier idea to appoint a non-partisan premier, though both populist groups have said they'll use their blocking majority to shoot down any such candidate and trigger new elections.