economics
Maduro Set to Win Vote He Forced. The Likely Loser: Venezuela
By
Maduro Set to Win Vote He Forced. The Likely Loser: Venezuela
By
Residents go to the polls amid boycotts, foreseeing sanctions

UN 'worried' that outpouring of migrants could escalate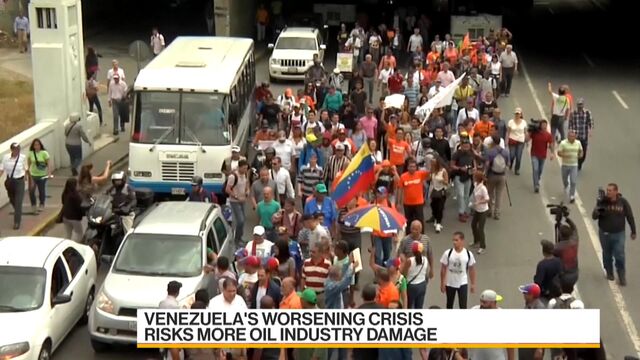 Venezuelan elections used to be a month-long party. In 2013, almost-daily rallies drew raucous crowds that filled city blocks. Campaign anthems boomed across the airwaves while activists blanketed the streets with fliers and graffiti.
Oil was trading at over $100 a barrel and Venezuela's bonds sold for more than 100 cents on the dollar -- a petro-state riding the boom that ensured President Nicolas Maduro's victory. But three days before this Sunday's presidential contest, oil is near $67 a barrel, billions of dollars worth of bonds are in default and there is a grim resignation that Maduro is gambling what remains of the economy with a vote widely presumed to be rigged.

The socialist regime has been punished and isolated, accused of trampling rights and jailing its most potent opponents, and another six-year term for Maduro, 55, could herald sanctions that choke off the oil lifeline. The U.S. has threatened to punish the local oil industry if the vote proceeds. Maduro this week spurned a final call by the regional Lima Group to suspend the election.
Enduring Misery
An opposition boycott -- and the daily fight to eat -- have left Venezuelans demoralized and uninterested. Maduro and his main challengers, Henri Falcon and Javier Bertucci, draw sparse crowds. Walkabouts have replaced caravans of buses and sound trucks. Instead of auto and appliance giveaways, there's free soup.

"What there is, is sadness,'' said Luis Sanchez Nieto, 63, a retired word-processor technician who was waiting for a food kitchen to open in downtown Caracas. With a monthly pension that barely covers a raw chicken, Sanchez Nieto said voters were struggling to see any cause for hope. "One must vote for change, but many have already accepted that the crisis will only continue.''
Neighbor countries and international aid agencies are already struggling to care for thousands of Venezuelans fleeing hyperinflation that may reach 13,000 percent this year -- and Maduro's consolidation of power. He has handed large swathes of the economy to the military and nullified the national assembly by creating an alternative, all-powerful legislative body that includes only supporters.
Regional Catastrophe
In an interview at Bloomberg News headquarters in New York, United Nations Secretary General Antonio Guterres said Sunday's vote won't meet the conditions for 193-member body's approval. Guterres said he was "extremely worried" that the outpouring of migrants could escalate into a major regional crisis if conditions don't improve.

"It is obviously a very big concern for all the countries around," Guterres said.
The nation's well-being and history are intertwined with its greatest national resource. It became one of the region's leading democracies in 1958, after the overthrow of a military dictatorship. Surging oil prices in the 1970s fueled an almost decade-long bonanza, with billions poured into public works, infrastructure and cheap imports readily available to the masses. It was for many years the most prosperous nation on the continent.
Chavismo Born
But facing an oil glut and saddled with debt, the nation enacted painful austerity measures in the late 1980s that sparked nationwide protests. That began a period of unrest -- and an attempted coup -- that ultimately propelled the late president Hugo Chavez to power in 1999. Chavez used oil revenue for social programs, such as free medical clinics and housing, and nationalized large sectors of the economy. Chavez died in 2013, and his mismanagement along with falling crude prices, left his unpopular successor with a country wracked by massive foreign debts and a web of complex economic controls.

Venezuela's meltdown propelled an opposition landslide victory in 2015 congressional elections, but a crackdown on dissent swiftly followed. The regime blocked a push for a recall referendum; it installed the legislative superbody filled with Maduro loyalists; and it has arrested and forced opposition leaders into exile.
Despite possessing larger oil reserves than Saudi Arabia, Venezuela is struggling to pull its riches from the ground as its industry collapses due to lack of investment and private companies move to snatch up assets as payments for outstanding debts.
"What is astounding about Venezuela under Maduro is the depths to which the government is willing to sacrifice the well-being of the country to avoid recognizing regime failures and maintain power," said Jennifer McCoy, a Georgia State University political scientist who is a former director of the Americas Program of the Carter Center, an election monitoring group.
Repo Man
Last week, ConocoPhillips began seizing the state oil company's assets throughout the Caribbean as part of an effort to fulfill a $2 billion arbitration ruling. Michael Penfold, a Global Fellow at the Wilson Center, said the takeovers only speed up the economic tailspin, which a Maduro victory would do nothing to stop.

"He's still facing collapsing infrastructure, a public-health-sector crisis and hyperinflation with no access to capital markets or the ability to restructure debts," Penfold said. "It's a very fragile situation.''
Venezuela's benchmark 2027 bonds, which fell as low as 18.82 cents per dollar in January, were trading at 30.61 cents this week.
Political Prosecutions
The country's main opposition alliance shunned the elections after the government refused to satisfy demands including restaffing a compliant electoral authority and providing additional time for primaries. The most prominent opposition figures — activist Leopoldo Lopez and two-time presidential contender Henrique Capriles — are banned from holding office on dubious charges.
Falcon, a former soldier and governor, is the most popular candidate, but even so has struggled to garner widespread support as many Maduro opponents accuse him of legitimizing a sham vote. Bertucci, a televangelist who has made free soup a staple of his campaign, is eating into his lead.

Polls are set to open from 6 a.m. to 6 p.m. on Sunday, or until authorities close voting stations. While Venezuela has over 20 million voters, pollsters say abstention levels could reach as high as 50 percent.
"Whether or not there's elections is completely secondary. It's clear that Maduro is not going to allow for any surprises,'' said Angel Alvarez, a political analyst and former Central University of Venezuela professor.
While Maduro's loyalists see a victory all but guaranteed, many wonder how he will remedy the current crisis. Juan Bolano, 51, a government archivist, said frustrations are growing.
"When is he going to bring order?" Bolano asked. "There's no cash, food is too expensive or hard to find, now the lights are going out. What does he plan to do? Things can't get any worse."
— With assistance by Ben Bartenstein, Lucia Kassai, and Sebastian Boyd