politics
Pentagon Says North Korea's Regime Has Staked Its Survival on Nuclear Weapons
By
Pentagon Says North Korea's Regime Has Staked Its Survival on Nuclear Weapons
By
Report to lawmakers is latest assessment ahead of June summit

Regime 'embraces the worldview of a garrison state': report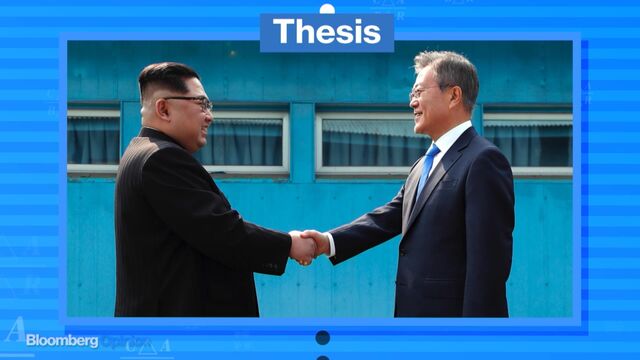 North Korea is making strides in its cyber warfare abilities and has staked its survival on the rapid development of nuclear weapons, according to a Pentagon report, signaling the difficulties the U.S. confronts in seeking the complete "denuclearization" of the Korean peninsula.
Kim Jong Un's reclusive regime possesses "increasingly sophisticated cyber warfare capabilities" that are "capable of damaging and disruptive cyberattacks," according to the newly obtained assessment sent to lawmakers on Capitol Hill.
At its heart, Kim's regime "embraces the worldview of a garrison state, cultivating fears of an imminent threat and external hostility, which serves to justify draconian internal security controls, vast expenditures on the military, and the continued unchallenged rule by the Kim dynasty, which it portrays as uniquely able to defend Korea," according to the report.
Coming less than a month before President Donald Trump is due to meet Kim on June 12 in Singapore, the 23-page unclassified report reflects the Pentagon's most current public assessment of the major nuclear and non-nuclear threats posed by North Korea as well as the internal and regional political dynamics shaping the regime.
The report covered a period ending in mid-December, ahead of a recent detente that led to plans for the Singapore summit.
Internal Propaganda
While Kim has agreed to discuss denuclearization at the summit, he wants a phased approach and an end to Trump's "maximum pressure" campaign of international sanctions and military threats. The Pentagon report reiterates the importance of nuclear weapons to Kim's survival.
The regime's "internal propaganda and rhetoric about nuclear weapons enabling 'final victory over the United States"' last year "saw growing and repeated emphasis" and it was "always linked to the nuclear program," the Pentagon said. Its nuclear weapons development "is probably designed with the assessment that nuclear weapons will deter foreign intervention if Pyongyang attempts to reunify the peninsula by force or coercion."
In addition to conducting offensive cyber warfare like last year's "WannaCry" attacks on civilian infrastructure, "Pyongyang probably is increasingly using cybercrime to offset financial losses resulting from international sanctions, especially given stricter Chinese enforcement of these sanctions," according to the report.
Risk of Reprisal
Kim's regime "likely believes it can conduct cyber effects operations with little risk of reprisal, in part because its networks are largely separated from the internet and disruption of internet access would have minimal impact on its economy," according to the assessment.
Among the report's other points:
* North Korea offsets its "resource shortages, and dated equipment by maintaining a large, forward-positioned force" that gives it the capability to initiate an attack against South Korea with "little to no warning."
* North Korea maintains "one of the world's largest, albeit aging, submarine forces, with around 70 attack-, coastal-, and midget-type submarines."
* The regime "sees itself beset by internal and external threats" as "it does not trust regional actors, including China and Russia, nor does the regime trust its own population."
* North Korea's population "is growing less reliant on the state because it no longer provides basic goods and services outside the capital and major cities" as the "regime continues to give top priority to ideological indoctrination, intimidation, and preferential treatment of the privileged elite in Pyongyang and of select military units."