politics
Trump's Ambassador Says U.S. Wants 'Credible' German Plan for Defense
By
Trump's Ambassador Says U.S. Wants 'Credible' German Plan for Defense
By
U.S. ambassador's demand underscores rift over German spending

Germany to fall far short of NATO-sponsored target by 2025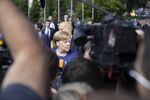 Donald Trump's new envoy in Berlin said the U.S. administration expects Germany to provide a "credible plan" to reach NATO-sponsored levels of military spending, three days after Chancellor Angela Merkel's defense minister said Berlin will fall far short of the target.
The comment by U.S. Ambassador Richard Grenell is a fresh sign of discord with Germany over a range of issues, including trade, a Russian gas pipeline and Iran. It also highlights the conflict between Trump's demand that Germany strengthen its military and the domestic political environment confronting Merkel, where her Social Democratic coalition partner opposes a massive rise in defense outlays.
"We look forward to the German government bringing a credible plan to the July NATO summit showing how it will meet its pledge to spend 2 percent of GDP on defense," Grenell said in an emailed statement to Bloomberg News on Thursday, referring to the goal North Atlantic Treaty Organization members committed to four years ago.
The statement was in response to a query about German Defense Minister Ursula von der Leyen's unexpected announcement Monday that military outlays will climb to 1.5 of gross domestic product by 2025. That target, to be announced at NATO's July 11-12 summit in Brussels, was Germany's first public acknowledgment that it would fall short of the alliance's goal.
Brewing Conflict
In addition to a brewing trade conflict between the U.S. and the European Union, divisions over the Russian gas pipeline and the fallout over Trump's decision to pull out of the Iran nuclear accord, the U.S. administration has been particularly vocal on what it views as insufficient defense spending by most NATO allies. Trump has singled out Germany, accusing Merkel's government of owing "billions" for security.
Von der Leyen sought to push back on that narrative this week, urging NATO allies not to get "stuck on financial figures."
"It's not the only criterion -- it's also a question of who contributes what in the alliance," the defense minister told a military conference in Berlin Monday, saying that Germany is the second-biggest troop contributor within NATO.
Grenell roiled political Berlin last week with a Tweet saying German companies should "wind down operations immediately" in Iran following Trump's decision. He later said his missive was in line with White House talking points.
Tweet Flap
"We of course don't give Germans directions -- we appeal to them as partners," Grenell told a group of journalists on Friday, responding to the tweet flap.
Just before von der Leyen spoke on Monday, Merkel told the same conference that Germany "needs to stand by the promises that we made." Her government says it will meet a pledge by NATO members in 2014 to move toward the 2 percent target within a decade.
The German Social Democrats campaigned in last year's election on a rejection of the 2 percent goal, saying there was no political appetite for it in Germany.
Lawmakers this week began debate on a federal budget that proposes raising defense spending from 37 billion euros last year to 41.5 billion euros ($50 billion) in 2019, equivalent to about 1.28 percent of GDP.
Finance Minister Olaf Scholz, a Social Democrat, says he expects the level to stay roughly constant "in the coming years." Von der Leyen, a member of Merkel's Christian Democratic Union party, has insisted that the military needs more funding.