politics
Trump Rebuts Bolton, Says Libya Isn't a Model for Kim Talks
By , , and
Trump Rebuts Bolton, Says Libya Isn't a Model for Kim Talks
By , , and
North Korea warns of 'rupture' with South as Trump moves ahead

Trump says China's Xi may be encouraging Kim on harder line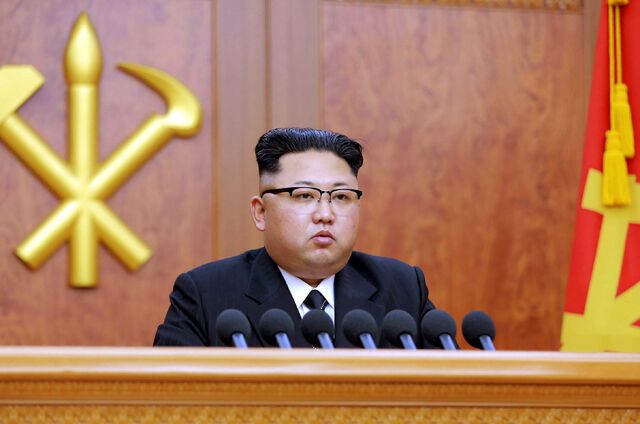 U.S. President Donald Trump rebutted his national security adviser, telling reporters that he didn't consider the nuclear disarmament of Libya a model for negotiations with North Korea over its atomic weapons program.
"The Libya model isn't a model we have at all" for North Korea, Trump said Thursday during a White House meeting with NATO Secretary General Jens Stoltenberg. Trump also suggested China, engaged in a trade fight with the U.S., could be encouraging North Korea's turn toward a harder line on nuclear negotiations and he repeated a threat against Kim Jong Un's regime if talks collapse.

U.S. National Security Adviser John Bolton drew the ire of the North Korean government for saying that the country's nuclear disarmament should follow the "Libya model" embraced by Moammar Qaddafi, who after giving up his atomic weapons was later overthrown and killed in a U.S.-backed uprising.
That history is well understood by Kim's regime. In a blistering statement Wednesday, North Korea's vice foreign minister and a top disarmament negotiator, Kim Kye Gwan, said his government felt "repugnance" toward Bolton.
North Korea also ramped up its criticism of South Korea and warned of a "rupture" in ties. The White House has tried to tamp down concerns that a June summit between Trump and North Korea's Kim may be derailed.
Read More: Bolton Emerges as Potential Wrecking Ball for Trump's Kim Summit
Trump said Thursday comparisons with Libya would be more apt if North Korea fails to reach an agreement with the U.S. to rid itself of nuclear weapons.
"The model, if you look at that model with Qaddafi, that was a total decimation," Trump said. "We went in there to beat him. Now that model would take place if we don't make a deal most likely."
Veiled Threat
Trump's veiled threat and use of the word "decimation" was ill advised, according to Srinivasan Sitaraman, who teaches international relations at Clark University in Massachusetts. "At such a delicate time, North Korea is going to look at that and say: 'why would I give up my nuclear weapons when someone is threatening to decimate me?'"
Still, a negotiated settlement with Kim would be "a much different deal," Trump said. "He'd be there, be in his country, he'd be running his country. His country would be very rich, his people are tremendously industrious."
Pyongyang decided earlier this week to suspend talks with Seoul, citing long-planned U.S.-South Korea military exercises. That decision came with a warning to the U.S. to "think twice" about the fate of the Trump-Kim summit planned to take place in Singapore on June 12.
Trump said that while he has been "reading stories" about North Korea's comments, Kim's government hasn't altered arrangements for the summit. "Nothing has changed on North Korea that we know of," he said.
Personal Barbs
North Korea's latest statements have echoed the Kim regime's verbal attacks before a recent thaw in ties with South Korea and the U.S. A year ago, Trump and North Korean leader were trading personal barbs and threats of war. Tensions were eased after the North agreed to send a team to the Winter Olympic Games in South Korea, and Kim's invitation to meet with Trump was quickly accepted.
South Korean officials "have been clearly proven to be an ignorant and incompetent group," according to the English-language statement on Thursday from KCNA, North Korea's state-run media outlet. Authorities in Seoul have "let human scum hurt the dignity of the supreme leadership of the DPRK and its social system," according to the statement.
"Unless the serious situation which led to the suspension of the North-South high-level talks is settled, it will never be easy to sit face to face again with the present regime of South Korea," the statement continued.
North Korea modified its tone again Friday when KCNA quoted the country's representative to the United Nations saying that discontinuation of nuclear testing was "an important process for global disarmament, and the DPRK will join international desire and efforts for total halt of nuclear test." North Korea plans to close the site where it has detonated all six of its nuclear devices between May 23 and May 25.
While Kim has agreed to discuss "denuclearization," he wants a phased approach and an end to Trump's so-called maximum-pressure campaign of international sanctions and military threats.
Trump said Thursday Chinese President Xi Jinping may be playing a role in the tougher line, pointing to a May 8 meeting between Xi and Kim.
"If you remember two weeks ago, all of a sudden out of nowhere Kim Jong Un went to China to say hello again -- second time -- to President Xi," Trump said. "It could very well be that he's influencing Kim Jong Un."
Markets Shrug
"The fact that the Trump administration seems to be showing some flexibility is a welcome development, because its posture on denuclearization thus far has been too inflexible to lead to a meaningful deal with North Korea," said Mintaro Oba, a former U.S. State Department official who worked on North Korean issues. "The worst thing the White House could have done was to escalate the situation."
Financial markets, though, have largely shrugged off concern that talks between the U.S. and North Korea may be derailed. South Korea's benchmark Kospi index climbed 0.25 percent on Friday at 12:20 p.m. in Seoul.
Read More on U.S.-North Korea Tensions
Both Bolton and Secretary of State Mike Pompeo have said the U.S. wants North Korea's "complete, verifiable, irreversible denuclearization." Pompeo, who's traveled to Pyongyang and met with Kim twice in the past few months, has also indicated the U.S. may initially accept a deal that puts the American homeland out of danger.
— With assistance by Nick Wadhams
(
Updates with KCNA report on nuclear testing in 13-14th paragraph.
)