markets
This Could Be Mario Draghi's Most Awkward ECB Meeting
By and
This Could Be Mario Draghi's Most Awkward ECB Meeting
By and
Governing Council meets in Latvia following banking scandals

Latvian central bank chief barred amid corruption allegations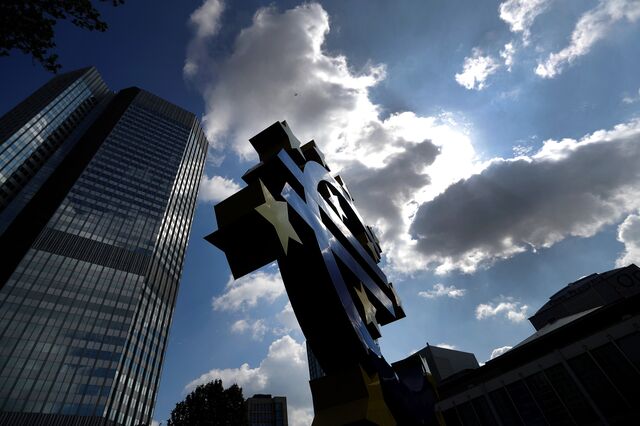 Mario Draghi is in for an uncomfortable atmosphere as the European Central Bank decamps to Latvia this week.
The two-day Governing Council session in Riga -- a critical discussion that could result in a decision to end the ECB's bond-buying program -- will have a notable absentee. Latvian Governor Ilmars Rimsevics, who as host would normally sit alongside President Draghi at Thursday's news conference, is instead fighting corruption allegations and is barred by national authorities from the building. The ECB is challenging restrictions on him in court.
The governor's absence isn't the only reason for unease. Scandals over dodgy clients in the former Soviet Union have plagued Latvian banks and the ECB shut the country's No. 3 lender in February after the U.S. accused it of breaking North Korea sanctions.
"It's no doubt an awkward situation," Fredrik Erixon, director of the European Centre for International Political Economy, said by email. "The only thing we know is that the saga reflects badly on everyone and erodes the credibility of central banks in Europe."
The ECB holds one meeting a year away from its Frankfurt base, and Latvia was planned long ago. The external gatherings often prove colorful. Four years ago in Naples, Italy, security amid anti-globalization protests was so strict that policy makers could barely hear each other speak over the roar of helicopters. In Cyprus the following year, a journalist seized the floor to harangue the ECB president in Greek. Several months later in Malta, the event took place in a hotel complex that also housed a lavish gambling hall.
Legal Battle
This meeting comes after a rocky few months for the Baltic nation of 2 million people. Rimsevics, 53, was detained in February on suspicion he'd solicited bribes from a local lender, just days after the U.S.'s money-laundering accusations emerged against the now-defunct ABLV Bank AS. He was released on bail, denying wrongdoing. Regulators are dismantling the nation's non-resident banking business.
ABLV's co-owner Ernests Bernis said in an interview on Latvian TV on Tuesday that he had referred Rimsevics to the police for alleged slander.
Speaking by phone, Rimsevics said he "never said bad things" about ABLV or other banks, and that the measures preventing him from attending the Governing Council session are a "violation of the law."
While Latvia represents just 0.2 percent of the euro-area economy, it's become a focal point for questions about financial oversight and central-bank independence.
The ECB has sued the country over limits on Rimsevics performing his duties and a travel ban that's kept him away from Governing Council meetings. His deputy, Zoja Razmusa, who's been attending as an observer, will probably appear alongside Draghi at Thursday's 3:30 p.m. news conference in Riga.
Click here for more on Latvia's banking woes
There's still a chance Rimsevics, who joined the Governing Council when Latvia adopted the euro in 2014 and is its longest-serving national bank chief, could make an appearance. While investigators will pursue formal charges within "a few weeks," the European Court of Justice could rule at any time to reinstate him or soften the restrictions he faces.

One ECB Governing Council member, who asked not to be identified discussing his colleague, said Rimsevics -- not the first official to face controversy -- would be welcomed with "open arms" should he be cleared for future meetings. Latvia's political establishment is decidedly more hostile. The president, government and parliament all say he should resign.
— With assistance by Ott Ummelas
(
Updates with Rimsevics in eighth paragraph.
)