markets
EU's Fastest-Shrinking Nation Finally Gets First Glimmer of Hope
By
EU's Fastest-Shrinking Nation Finally Gets First Glimmer of Hope
By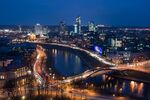 It may yet turn out to be a blip, but it's something of a milestone for the European Union's fastest-shrinking nation.
For the first time on record, more people immigrated into Lithuania last month than left, buoyed by inflows from Ukraine and Belarus. Net arrivals may have been small after the loss of almost a quarter of the population since 1990. But with the whole of ex-communist Europe enduring labor shortages as workers head west for higher pay, the Baltic nation of 2.8 million people can count this as an achievement.
Lithuanians have long been lured by salaries in the continent's richer nations, with even Brexit failing to dim the allure of the U.K. Some have been returning with new skills, but up to now the numbers haven't been enough to turn the tide of exodus.
That's shaping up to be a problem: the International Monetary Fund said in May that a shrinking population risks curbing economic growth to as low as about 2 percent in the medium term -- probably not enough to persuade many emigres that their futures lie back home.