politics
Mueller Reveals Memos on Manafort Lobbying for Ukraine
By and
Mueller Reveals Memos on Manafort Lobbying for Ukraine
By and
Notes likely to be central to Manafort's trial in September

Prosecutor rejects Manafort's argument on witness tampering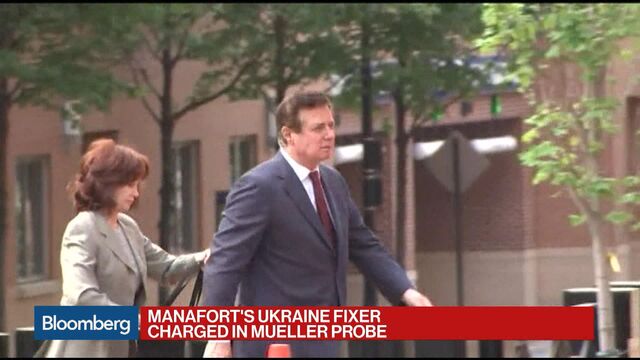 U.S. Special Counsel Robert Mueller used a late-night filing Tuesday to reinforce his allegation that Paul Manafort, the former campaign chairman for Donald Trump, directed a pro-Ukraine lobbying campaign in the U.S. without registering as a foreign agent.
[See the documents here , here and here]
Prosecutors from Mueller's team filed two memos, one written by Manafort, which they say document how he directed efforts to influence U.S. lawmakers and media in favor of then-Ukrainian President Viktor Yanukovych.
The memos further undermine Manafort's assertion that the pro-Ukraine lobbying was limited to Europe. That makes it likely they will play a central role in Manafort's trial in Washington beginning in September on charges that he failed to register his foreign lobbying with the U.S. Justice Department, and that he laundered some of the proceeds.
Prosecutors are also using the memos to underscore their argument that Manafort, 69, should be jailed, or be placed under tighter house arrest, before he goes on trial in coming weeks. Prosecutors say that earlier this year, Manafort tried to contact a pair of former journalists who'd worked on the lobbying, asking them to characterize their work as excluding the U.S.. Manafort is scheduled to be arraigned June 15 on added charges of obstruction of justice.
International Consultant
Manafort, an international political consultant, organized former European politicians, known as the "Hapsburg group," to try to head off possible sanctions against Ukraine for the imprisonment of Yanukovych's rival Yulia Tymoshenko. Mueller claims they lobbied in the U.S. from September 2012 until 2014.
"Manafort's own words establish the falsity of his representation that the Hapsburg group was 'European-focused,'" prosecutors argued in a filing to U.S. District Judge Amy Berman Jackson.
They cited a draft memo, dated April 22, 2013, that Manafort wrote to Yanukovych detailing how he had organized meetings with members of Congress in Washington.
"Our engagement with senior officials of the Department of State is bearing fruit," Manafort wrote to Yanukovych. "We have engaged dozens of Congressional offices including the leadership and every member of the Senate Foreign Relations Committee and House Foreign Affairs Committee."
'Heavily Engage'
Manafort's memorandum to Yanukovych said he sought to "heavily engage" the U.S. government and Congress, "using a strategy I built." A key element of that strategy was to defend the trial and seven-year jail sentence in 2011 for Tymoshenko, the blond-braided former prime minister.
Her treatment was widely condemned around the world as politically motivated. In September 2012, the Senate passed a non-binding resolution condemning her imprisonment and calling on Ukraine to provide her with medical care. Her prosecution become a flashpoint in negotiations between Ukraine and the European Union on an association agreement.
In the memo, Manafort said that his "Engage Ukraine" campaign would reinforce to U.S. policy makers the positive aspects of relations between the two nations.
Manafort is accused in Washington of laundering millions of dollars he made in Ukraine even as he failed to register as a foreign agent. On June 8, he was indicted anew on those charges as well as witness tampering charges with a longtime associate, Konstantin Kilimnik, who prosecutors have said has ties to Russian intelligence.
Prosecutors charge that after he was indicted in February, Manafort and Kilimnik tried to influence the testimony of two potential witnesses. They are Alan Friedman and Eckart Sagart, according to the people familiar with the matter. Longtime journalists Friedman and Sagart formed FBC, which stands for Fact-Based Communications and is no longer operating.
Manafort faces a Sept. 17 trial in Washington after a separate trial in Alexandria, Virginia, on tax- and bank-fraud charges.
(
Corrects misattribution of memo in 11th paragraph.
)