economics
Emerging Markets Extend Declines After Fed Lifts Outlook to Four Hikes
By
FOMC raises rates, boost outlook to four hikes in 2018

ECB's meeting Thursday adds to growing list of risks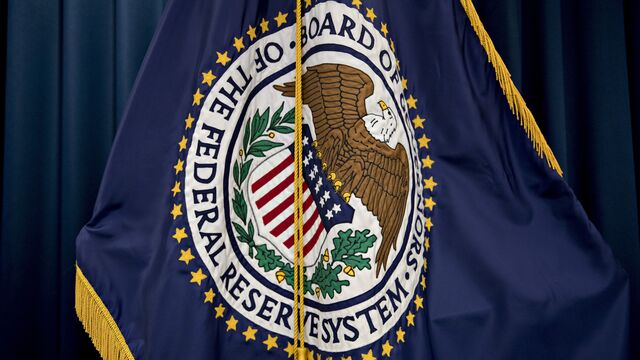 Stocks and currencies in emerging markets extended losses after the Federal Reserve raised interest rates and upgraded its forecast to four hikes in 2018 -- moving further away from the era of cheap money that has bolstered riskier assets in the past decade.
Equities in developing nations halted a two-day rally, while a measure of currencies breached a key technical level seen as a harbinger for more losses. The Argentine peso slumped as the impact of the Finance Ministry's announcement to sell as much as $7.5 billion in the foreign-exchange market was short lived. Meanwhile, the Brazilian real erased losses after the monetary authority called for a third swap auction to bolster the currency.
Emerging-market assets retreated as signals of a slightly more aggressive pace of Fed hikes added to concern over further currency depreciation in developing economies. That could exacerbate strains on central banks facing a trader onslaught against countries with widening current-account deficits, accelerating inflation and rising political risk.
It's a more "hawkish" stance by the Fed, said Win Thin, the global head of emerging-market strategy at Brown Brothers Harriman in New York. "Emerging-market currencies should remain under pressure."
The expected interest-rate arbitrage over the next month is falling for many currencies as higher U.S. interest rates narrow yield premiums. That's not all. Surging volatility is narrowing returns when the carry trade is adjusted for currency swings.
An index that tracks emerging-market currencies fell below its 50-week moving average on Wednesday for the first time since December 2016 -- a sign to some analysts that the gauge is set for more losses. The measure has fallen in all but two weeks this quarter after the dollar's advance exposed just how little some central banks have done to deal with monetary issues.

"Countries that feasted on the cheap money that resulted from the quantitative easing and near-zero interest rates initiated by the Federal Reserve almost a decade ago are now suffering from a withdrawal of global liquidity," wrote Komal Sri-Kumar, the president and founder of Global Strategies.
Looking ahead, traders may have other policy hurdles.
Some investors see Thursday's European Central Bank decision as a bigger risk for developing-nation currencies than the Fed as they say President Mario Draghi may signal he'll start dialing down a bond-buying program. The threat comes earlier than anticipated and potentially spells the end of the easy-money days that drove flows into emerging markets after the financial crisis, patching over their current-account deficits.
Highlights Wednesday:
MSCI Emerging Markets Index dipped 0.4 percent to 1,135.68
CBOE Emerging Markets ETF Volatility Index climbed 4.4 percent
MSCI Emerging Markets Currency Index extended losses into second day
Risk premium on EM sovereigns +1bp to 350bps: JPMorgan indexes
Latam:
BRAZIL:

Ibovespa dipped 0.9 percent to 72,122.13
Real gained 0.2 percent to 3.71 per dollar
10-year local-bond yield gained 13 basis points to 11.85 percent
Brazil Sells All 20,000 FX Swaps in 3rd Extra Auction Today
FinMin Guardia: We'll Work With BCB on Volatility Whenever Needed
Real Is Most-Attractive Emerging-Market Currency: Pictet Wealth
Retail Sales Rise More Than Expected Before Trucker Strike

ARGENTINA:

Merval Index dipped 1.7 percent to 30,233.58
Peso declined 1 percent to 26.00 per dollar -- weakest on record
The central bank will conduct daily auctions on behalf of the Treasury to sell the dollars, the Finance Ministry said in a statement Wednesday
Argentina "ticks all boxes" for qualification as an emerging market, but its political situation may continue to concern MSCI: Andrew Brudenell, Ashmore Group Plc's head of frontier-market equities

MEXICO:

Mexbol index increased 0.2 percent to 46,760.58
Peso gained 0.2 percent to 20.6797 per dollar
10-year local-bond yield gained one basis point to 7.962 percent
USD/MXN has been drifting toward 21.00 key level in trading range last seen in 2017; pair has stayed above 20.50 since June 4
Corruption Accusations Fly in Mexico's Final Presidential Debate
Mexico Undecided Voters May Be Moving to Morena's Side: JPMorgan

Click for market news on ANDES
EMEA:
TURKEY:

Borsa Istanbul 100 Index dipped 1.9 percent to 93,504.76
Lira declined 1.2 percent to 4.6511 per dollar
10-year local-bond yield rose to 15.71 percent, highest on record
"It concerns me that even with a 500 basis-point hike in policy rates by the CBRT, which should be more than enough with FX adjustment to deliver the required re-balancing, the market is still not buying it," said Timothy Ash, a strategist at BlueBay Asset Management in London
Lira Unlikely to See Drastic Moves Before Election: MUFJ Kokusai
Erdogan Fights to Keep Power as Bloomberg Poll Shows Tight Votes

SOUTH AFRICA:

FTSE/JSE Africa All Share Index increased 0.4 percent to 58,437.23
Rand gained 0.1 percent to 13.3191 per dollar
9-year local-bond yield declined four basis points to 8.98 percent
South African Business Confidence Falls as Ramaphoria Wanes
"We are cautious about the near-term outlook for the rand, given the prospect of further general EM pressure," writes Shireen Darmalingam, macro economics strategist at Standard Bank. "But in the medium-term, the rand should recover somewhat from current levels"
Retail Stocks' Longest Drop Since 2014 Shows S. Africa Gloom

RUSSIA:

MOEX Russia Index little changed at 2,270.73
Ruble gained 0.4 percent to 62.545 per dollar
10-year local-bond yield gained six basis points to 7.57 percent
Analysts polled by Bloomberg are evenly split over Russian policy makers' path with 19 forecasting no change from 7.25% at Friday's meeting and 19 seeing a 25bps cut
Russia Keeps Meddling, Mueller Says in Bid to Guard Evidence
Russia Is Said to Seek Full Cuts Rollback for Most of OPEC+

Click for market news on POLAND and HUNGARY
Asia:
CHINA:

Shanghai Composite Index dipped 1 percent to 3,049.80
Offshore yuan gained 0.3 percent to 6.3892 per dollar
10-year local-bond yield little changed at 3.685 percent
China has made it easier for overseas investors to take their money out of the country in a bid to encourage foreign investment
More Defaults in Offing as China Inc. Faces Financing Hurdle
ZTE Dives After Swallowing $1 Billion U.S. Fine and Overhaul
China Manager Beating 99% of Peers Says Tencent to Rise More

INDIA:

Sensex Index increased 0.1 percent to 35,739.16
Rupee declined 0.2 percent to 67.644 per dollar
10-year local-bond yield slid four basis points to 7.934 percent
Indian Stocks Rally as Inflation Meets View; Drugmakers Gain
Yields on India's front-end bonds fell after a government official said the nation may cut down on issuance of shorter-maturity bonds
India's Current Account Gap Widens More Than Forecast on Oil
India Says IPO Is an Option for Flag Carrier After Bungled Sale

Click for more on markets in ASIA
— With assistance by Aline Oyamada, Dana El Baltaji, and Srinivasan Sivabalan
Before it's here, it's on the Bloomberg Terminal.
LEARN MORE