business
U.A.E. Extends Stimulus Blitz by Ditching Costly Worker Deposits
By and
U.A.E. Extends Stimulus Blitz by Ditching Costly Worker Deposits
By and
Scrapping mandatory deposit to free up about $3.8 billion

Changes are latest in series of reforms to help the economy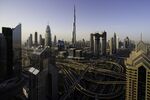 The United Arab Emirates is on a blitz.
In the past three weeks, the federal government and regional sheikhdoms have announced a slew of measures designed to stimulate and diversify their oil-dependent economies. The latest: scrapping the billions of dollars private businesses have to lay out to hire the foreign workers they depend on.
Businesses will now pay an annual fee of 60 dirhams ($16.34) per worker instead of a deposit of 3,000 dirhams, state-owned WAM news agency reported. The oil-rich country is also loosening visa rules for job seekers, tourists and students to encourage people to come, stay longer and spend more.
The measures should have an immediate impact, said Abu Dhabi Commercial Bank's chief economist, Monica Malik. "The reduction in fees on companies is a sign the government is looking to help business after realizing they have come under pressure with lower demand and increased costs," Malik said.
Scrapping the 3,000-dirham deposit frees up about $3.8 billion for businesses, WAM reported.
Read here for more on U.A.E. economic stimulus moves
Lower oil revenue and weaker regional economies have hurt growth in the U.A.E., where expatriates make up about 80 percent of the population. Last year, growth slumped to an inflation-adjusted 0.5 percent after OPEC nations agreed to production cuts, down from 3 percent in 2016.
If earlier efforts to address economic ills focused on belt-tightening, then since late May, governments have shifted gears and are looking to attract investment and further diversify. The U.A.E. kicked off the blitz with plans to ease restrictions on full foreign ownership of businesses, and to let some foreigners stay longer to encourage them to send a smaller portion of their earnings back home.
Abu Dhabi then unveiled a three-year, $13.6 billion economic stimulus program that includes encouraging new industries and attracting foreign investment. And Dubai announced plans to curb rising costs that have reduced the city's appeal to expatriates and investors alike.
"These changes signal that the government continues to show flexibility and make it easier to live and do business," said Hasnain Malik, Dubai-based global head of equity research at Exotix Capital. "But what is really needed for the economy to fly again is some combination of much lower cost of living, sustained higher oil prices or sufficient peace to drive intra-regional higher trade."