Economics
The Elusive North Korean Bonds That Few Know How to Find
To profit from peace, investors are searching for the regime's deeply discounted debt.
By and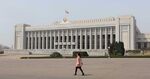 Hedge fund manager Kyle Shin has been trying to get his hands on rarely traded North Korean debt that went into default more than three decades ago. Shin, whose Gen2 Partners in Hong Kong runs a $720 million hedge fund, believes the bonds are trading at about 20¢ to 30¢ on the dollar—which could mean a windfall for anyone holding them when and if a peace deal with the North comes to fruition. "If we're reunited, it's highly likely that North Korea will have to come back to the financial markets," says Shin, a South Korean native. "To come back to the financial markets, they will have to pay off the bonds."
There's about $900 million of debt outstanding in principal, or as much as $5 billion depending on how past unpaid interest is calculated, according to Stuart Culverhouse, chief economist of Exotix Partners Ltd., a London-based brokerage specializing in distressed securities. Shin is trying to locate investors who own the bonds and might want to sell. He's reached out to brokers such as French bank BNP Paribas SA, which in 1997 helped repackage about half of North Korea's defaulted commercial bank debt into notes denominated in deutsche marks and Swiss francs. (No luck: BNP told him it has no information on where to buy the bonds.)
Speculators have periodically used the notes to bet on easing tensions on the Korean Peninsula. In 2007 their value surged 36 percent on optimism that then-North Korean leader Kim Jong Il would buckle under U.S. pressure and agree to divulge details of his nation's atomic weapons program, Exotix told Bloomberg News in 2008.
Even if investors do locate the bonds, they may not be able to buy them unless sanctions are lifted. U.S. sanctions on North Korea have frozen secondary-market trading for the country's defaulted debt since 2013, Culverhouse says. Prices were in the single digits before trading was halted, but there's no indication of what they'd be should the U.S. lift sanctions. "Up until 2013 there was an active market," he says. "It was the only investable thing really that Western investors could look at in North Korea." —With Bei Hu
BOTTOM LINE -
North Korea would need to honor its debt commitments before ever being integrated into the global financial system, which could be a windfall for a lucky few investors.
Before it's here, it's on the Bloomberg Terminal.
LEARN MORE