markets
Investec Has Six Reasons Why Investors Will Buy More China Bonds
By
Investec Has Six Reasons Why Investors Will Buy More China Bonds
By
Index inclusion will lead to demand for China debt: Investec

Attractive yields, low correlations will appeal to investors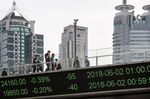 Global investor exposure to Chinese securities has plenty of room to grow in coming years, especially in fixed income, as the world's second-largest economy increasingly opens up its market to the rest of the world, according to Investec Asset Management.
While investors have paid plenty of attention to the recent inclusion of China's A-shares into MSCI Inc.'s benchmark indexes, the announcement of Chinese bonds' inclusion into the Bloomberg Barclays Global Aggregate Index has been met with much less fanfare, said Wilfred Wee, portfolio manager with Investec.
"As access to China's capital markets improves and international investors gain more insight into its fixed income asset class, we believe that Chinese bonds will increasingly feature in their portfolios," Wee said in a note to clients Thursday.

Foreigners held about 1.4 trillion yuan ($219 billion) of onshore China bonds at the end of the first quarter of 2018, three times the amount held four years previously, Wee said.
Read more on Goldman seeing U.S. investors warming to China's bond market
Here are six reasons why Wee sees foreign holdings growing further:
Mature Market: While China's bonds tend to be viewed as emerging-market assets, their characteristics are more in line with those of developed markets when it comes to volatility and size
Index Inflows: The market will benefit from more inflows from China's inclusion in benchmark bond indexes managed by Bloomberg and Barclays Plc, as well as FTSE Russell and JPMorgan Chase & Co.
Outperformance Potential: China debt offers healthy yields compared with developed market peers
Corporate Offering: Plenty of Chinese companies have issued debt in the international dollar-bond market and have relatively high credit quality
Currency Support: China's ability to consistently run a trade surplus against major economies will help minimize the risk of currency exposure
Diversification Benefit: Chinese bond returns tend to be lowly correlated to other asset classes as China's interest-rate movements are largely based on domestic factors
— With assistance by Andreea Papuc