markets
Sunset at 2 Minutes to Midnight -- How Ramadan Works in Iceland
By
Sunset at 2 Minutes to Midnight -- How Ramadan Works in Iceland
By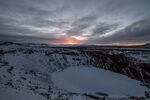 In case you were wondering how Ramadan works in the land of the midnight sun, this is for you.
After rising at 2:58 a.m., the sun is scheduled to set at 11.58 p.m. on Thursday in Reykjavik. For Islamic communities around the world celebrating the end of the holy month of daytime fasting, the number of daylight hours is a matter of some interest.
The exact date of the Eid al-Fitr celebrations varies each year according to the phases of the moon and the correspondence between the Islamic and Gregorian calendars. This year, it falls close to the longest day of the year in the Northern Hemisphere, the summer solstice (June 21).
Iceland's Muslim community numbers about 1,000 people. Fortunately for them, they're allowed to set their clocks to Mecca time (where the sun sets at 7:04 p.m. on Thursday).
Ahmad Seddeeq, an Imam at the Islamic cultural center of Iceland who is originally from Egypt, says there's even an upside to fasting for up to 20 hours in the Nordics.
"I have done this for years, and I find it more difficult in my country, where it is 40 to 45 degrees" Celsius, Seddeeq said. Local Muslims agree that it's "easier to fast in a cool climate," he said.
Iceland's weather forecast for Thursday shows a top temperature of 11 degrees Celsius (about 52 degrees Fahrenheit) and rain.