Economics
There's a Gas Pipeline Deal to Be Done With Kim

Jong

Un. Any Takers?
The idea of building a pipe to carry natural gas from Russia's Far East to South Korea has been around since the 1990s. A thaw could revive it.
By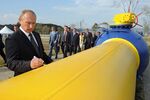 The idea of building a conduit to carry natural gas from the Russian Far East to South Korea has been around since the 1990s. From 2008 to 2011, as Russia's gas giant, Gazprom PJSC, was building a pipeline as far as Vladivostok, the company signed a memorandum of understanding with North Korea and a framework agreement with Seoul's Korea Gas Corp. to extend it south.
It went nowhere, primarily because of the politics surrounding Kim's bid to build up his nuclear and missile programs. With North Korea's relations with the U.S., Seoul, and China now on the mend, and South Korea trying to reduce its dependence on coal and nuclear power, the pipeline would seem an obvious piece of economic diplomacy.
The government in Seoul, at least, seems interested in bringing the proposal back to life. "Should the security situation on the Korean Peninsula improve, we will be able to review the LNG project involving the two Koreas and Russia," South Korean Foreign Minister Kang Kyung-wha told a regional energy conference at the end of March, according to the state-owned Yonhap News Agency. Getting the North involved in such a project could "serve as a catalyst that helps ease geopolitical tensions in the region," she said.
Perhaps, but many obstacles stand in the way. Impoverished, unpredictable, and with a history of flouting international law, the government in Pyongyang would make a high-risk partner for something as capital-intensive as an energy pipeline. Even at the height of optimism about the project in 2012, when Gazprom was announcing it was ready to start work, a report by a Russian energy academic warned that "Russia cannot provide its South Korean counterparts with reliable guarantees of safe delivery," because it lacked "real influence" over Pyongyang.
More important, the project has become commercially less attractive to Gazprom. The company already has its hands full building $40 billion worth of pipelines to China and Europe. —With Elena Mazneva
BOTTOM LINE -
A proposal to build a pipeline through North Korea to transport Russian gas faces even greater obstacles today than when it was first floated in the 1990s.
Before it's here, it's on the Bloomberg Terminal.
LEARN MORE