business
Unilever Warns of Slow Sales as It Faces Future Outside FTSE
By and
Unilever Warns of Slow Sales as It Faces Future Outside FTSE
By and
Consumer giant moving to a single headquarters in Netherlands

Unilever says Brazil strikes cut sales by 150 million euros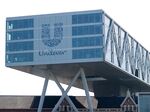 Unilever gave a muted outlook for sales and said it's "extremely unlikely" to remain in the U.K.'s benchmark FTSE 100 stock index after the company consolidates its headquarters in the Netherlands.
The consumer-goods giant said sales growth in the first half is likely to be below the full-year forecast range of 3 percent to 5 percent. The effect of strikes in Brazil will cut sales by 150 million euros ($177 million) in the second quarter, it said. Unilever shares fell as much as 3.8 percent in Amsterdam and as much as 4.4 percent in London.
The company's comments Thursday on the stock listing go further than its indication in March that ending its dual-location structure may result in it being designated under only one index nationality. The owner of Lipton tea and Ben & Jerry's ice cream plans to combine its headquarters in Rotterdam, abandoning a separate U.K. base it has maintained for nearly a century.
Exiting the FTSE 100, where Unilever was one of the original members more than three decades ago, may mean the stock is less likely to be included in U.K. fund managers' portfolios. Fewer than 30 of the original constituents of the index remain. Companies that have disappeared from the gauge include Boots, British Home Stores, Hanson Trust and Midland Bank.
Unilever has previously said its NV shares, traded in Amsterdam, are more liquid than the Plc shares traded in London, and that it would be ideal for the company to retain membership in both the FTSE 100 and Dutch AEX, but that the ultimate decision lay with the managers of those indexes.
FTSE Index
Unilever has been speaking with the FTSE Russell index authority, and it's become clear that continued inclusion in the U.K. index was a long shot, Chief Financial Officer Graeme Pitkethly said at a Deutsche Bank conference. The company understands that this development would inconvenience funds that benchmark against the FTSE index, but its move to Rotterdam is "the right thing as a whole," Pitkethly said.
Pitkethly said the company is used to handling volatile events and was able to respond quickly to the disruption in Brazil.
The 150 million-euro hit in Brazil "seems a lot," RBC Capital Markets analyst James Edwardes Jones said in a note. "We would regard an 11-day transport strike in Brazil as business as usual for a globally diversified" consumer-goods conglomerate.
(
Updates with analyst comment in last paragraph.
)