politics
World Cup Gives Nafta Nations a Rare Win-Win-Win in Age of Trump
By
World Cup Gives Nafta Nations a Rare Win-Win-Win in Age of Trump
By
Trump, Trudeau, Pena Nieto all Tweet congrats for 2026 award

Nations have disagreed on issues from immigration to milk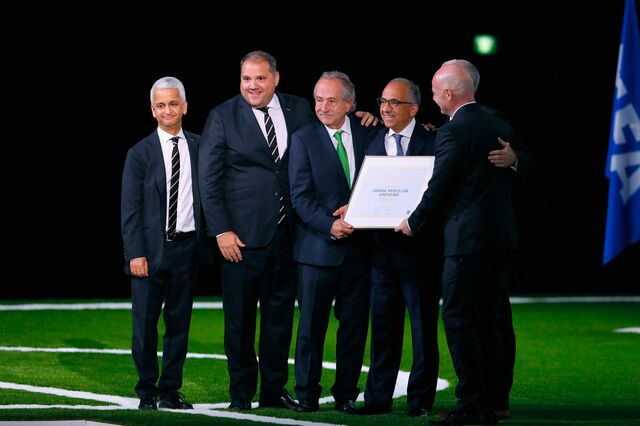 After more than a year of cancelled visits, Twitter battles and threats to tear up two decades of increasing economic integration, U.S. President Donald Trump and his counterparts in Canada and Mexico finally have something they can agree on -- 2026 will make the World Cup great again.
Trump took to his favorite social media platform Wednesday to congratulate those responsible for convincing the FIFA Congress in Moscow to back North America's joint bid. Mexican President Enrique Pena Nieto released a video where he said that on soccer, the three nations are "profoundly united," and celebrated their shared honor to host. Canadian Prime Minister Justin Trudeau Tweeted that it's going to be a great tournament.
FIFA's decision follows Pena Nieto's cancellation of trips to Washington following Trump's demand that Mexico pay billions for a border wall to keep out undocumented immigrants, some of whom he labeled as criminals and rapists. It also comes amid an impasse in talks to update the Nafta trade deal, the U.S. imposition of steel tariffs and comments from a Trump aide that Canadian Prime Minister Trudeau deserved a "special place in hell."
Read more - Why Russia's World Cup Won't Be Like Any Other: QuickTake
The tournament means that the three host nations will have to put aside differences and deepen collaboration on a project that aims for a record $11 billion in profit, one that will outlast the administration's of Pena Nieto, Trump and possibly Trudeau. It also will probably require increased infrastructure to accommodate fans driving across international borders to games in cities that may include Houston, Dallas, Los Angeles, Monterrey, Toronto, and Montreal.
"It's an important opportunity to create a different narrative about North America and the rest of the world," said Arturo Sarukhan, who first proposed a joint U.S.-Mexico bid when he was the Latin American nation's ambassador to Washington in 2011. "Precisely because of Trump's anti-Mexico tirades and his decision to go after Prime Minister Trudeau, this could be the medicine that's needed by the time he leaves to heal the wounds."
Sarukhan, 54, who plays soccer every Sunday and has played goalkeeper for the Democrats in the annual Congressional game, said he suggested a binational bid to President Barack Obama as a way to build on Nafta, which took effect in 1994. The Obama administration sought to modernize the deal through the 12-nation Trans-Pacific Partnership. Trump has repeatedly said the accord led to U.S. job losses and promises to negotiate a better deal or withdraw. Work on updating the deal began last August.
Read more: U.S., Canada, Mexico Unite Long Enough to Win 2026 World Cup Bid
The expanded 2026 men's World Cup event, featuring 48 teams for the first time, will be played in 16 different cities -- 10 in the U.S., plus three sites in both Canada and Mexico. The joint bid got 134 votes, compared to 65 for runner-up Morocco. There was one abstention.
Pena Nieto was quick to point out that the event will make Mexico the first country to host the World Cup three times, with previous tournaments in 1970 and 1986. The U.S. has hosted one, in 1994. Typically, the host nation gets an automatic berth in the World Cup, but FIFA head Gianni Infantino said the regional soccer federation, Concacaf, must decide whether to use its slots for all three squads. The region has seven slots, six automatic and then two "halfs" that allow teams to qualify through a playoff.

Emilio Azcarraga, the chairman of Grupo Televisa SAB, Mexico's biggest broadcaster, had a hand in closing the deal over the past several years, along with other business people in the U.S. and Canada and the football federations, said Javier Tejado, a spokesman for Televisa. Televisa owns the Estadio Azteca mega-stadium that has twice played host to the final game of both of Mexico's previous World Cups.
Some observers highlighted the importance of the global game and its biggest showcase returning to the U.S. given anti-immigrant strains within U.S.
"It's the Latinos and other immigrants who have always led the charge on soccer in the United States," said Duncan Wood, director of the Mexico Institute at the Woodrow Wilson International Center for Scholars in Washington, who also has promoted the idea of a trinational World Cup. "This World Cup is really going to celebrate the role of immigrants."