Breakaway
Mid-Cap ETFs Are Huge Performers, But Nobody's Buying
Will an ESG twist entice investors?
By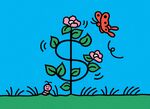 It's not easy being the middle child. Just ask the category of exchange-traded funds, or ETFs, tracking U.S. mid-cap companies. The SPDR S&P MidCap 400 ETF Trust, or MDY, is the largest mid-cap ETF. Despite grossly outperforming its large-cap and small-cap fund competitors, it has the least amount of assets among the three. To take that a step further, if you compare the performance of all ETFs that have ever existed, MDY would have been the best bet, according to Bloomberg Intelligence ETF analyst Eric Balchunas. "Mid-caps are the Jan Brady of the stock market, the forgotten middle child," he says. "I continue to be amazed by mid-caps, and I continue to forget about them."
Perhaps one way to lure investors to the category would be to add some sexy investment theme that's popular with millennials—such as ESG, a metric used to evaluate companies' environmental, social, and governance characteristics. That's just what Nuveen LLC did in December 2016 when it launched two mid-cap exchange-traded funds based on ESG criteria. The idea was to offer something that wasn't on the market, and clients were also clamoring to infuse their portfolios with ESG, according to Martin Kremenstein, head of retirement products at Nuveen.
ESG has drawn increasing interest in recent years from investors looking for ways to connect their values to their investments. But investors can have very different views on what constitutes a socially responsible investment, and many analysts believe avoiding companies that don't meet ESG criteria can hurt returns. "ESG can squeeze the juice out of the best-performing sectors," says Josh Lukeman, head of ETF market making in the Americas for Credit Suisse Group AG.
Also, adding an ESG strategy doesn't automatically boost interest in the mid-cap category for ETFs, Balchunas says. Some investors may express a desire for such products to appear virtuous, he says, but don't really want to risk hurting their returns by putting money in them.
Neither of the Nuveen funds, which are marketed as NuShares, has been able to attract even $50 million in assets. One, known by the ticker NUMV, has returned less than 1 percent this year, while a broad benchmark for mid-cap companies has climbed 5.7 percent. Nuveen says the fund's benchmark is a mid-cap value ETF known by the ticker IWS, which is up just under 1 percent this year.
For now, Nuveen is sticking with the funds. One key factor is the commitment of Nuveen's owner, TIAA, the giant money manager, to ESG. "It's not something we cobbled together in the past couple of years, it's been pretty core to our DNA for a long time," Kremenstein says. TIAA has managed ESG strategies since 1990.
Nuveen's commitment is good news to some investors. Dan Juechter, chief executive officer and founder of Hunter Financial Advisors Inc., who holds client money in both of the firm's ESG mid-cap funds, says he's not looking for quick profits. "Over long periods of time, I think we're going to see that not only is it advantageous for the corporate culture to embrace this, but it's going to show in performance," Juechter says. "At the end of the day, you have to have a certain degree of faith." —With Tom Lagerman
BOTTOM LINE -
Investors want more mid-cap exposure in their portfolios, but ESG criteria in mid-cap ETFs have weighed down performance and spooked away buyers.
Before it's here, it's on the Bloomberg Terminal.
LEARN MORE