markets
Attention Turns to Mexico-Focused ETF With Sunday's Election Looming
By and
Attention Turns to Mexico-Focused ETF With Sunday's Election Looming
By and
Cash pours into targeted, single-country funds like Mexico

Broad international market ETFs have lost billions this year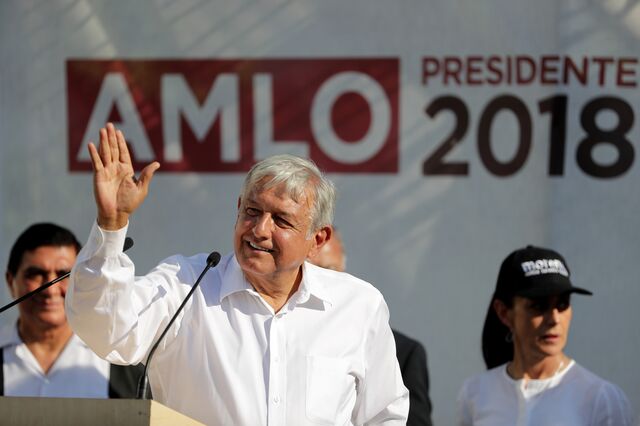 Forget diversified exposure -- targeted bets are where it's at for international ETF investors.
With a heavy election calendar in Latin America this year, investors are increasingly placing bets on single-country exchange-traded funds.
It started with Colombia: The $109 million Global X MSCI Colombia ETF, or GXG, absorbed a $12.7 million spike in trading activity the week following the nation's presidential run-off vote on June 17. And the $25 million iShares MSCI Colombia ETF, or ICOL, has seen inflows of $3.8 million this month, the most since March 2016.
Now, with Mexico's election coming Sunday, all eyes will be on the $1.1 billion iShares MSCI Mexico ETF, or EWW, as the country appears poised to pick leftist leader Andres Manuel Lopez Obrador.
The fund had seven days of inflows through June 26, the longest streak since November 2016, as traders become more comfortable with the idea of a Lopez Obrador administration. The ETF took in close to $150 million last week, the most since December 2016, and has climbed 5.6 percent this month after tanking 13.4 percent in May.
Bleeding Assets
"It's possible that if we're seeing inflows into EWW that EM investors are less concerned about tariffs with Mexico and the trade war," said Andy Wester, senior investment analyst at Proficio Capital Partners. "The peso is very cheap relative to developed-market currencies on traditional metrics, and maybe it was the baby in the bathwater when the dollar strengthened so much."
Meanwhile, international market ETFs with broad exposure have bled assets. The $30 billion iShares Emerging Markets ETF, or EEM, has seen outflows of $5.4 billion this month, the most since January 2014. A fund specifically holding Latin American stocks is no different. Investors yanked $111 million from the $1.1 billion iShares Latin America 40 ETF, or ILF, in June after the ETF lost $363 million in May, the most in almost a decade.

Investors already seem to be placing bets ahead of Brazil's elections in October, as the $6.5 billion iShares MSCI Brazil ETF, or EWZ, has seen trading volume in June hit the highest in over a year. About $96 million exited the fund Thursday as Brazilian equities flirt with their lowest level in over a year and a half.
While the presidential election is cause for concern, "the currency seems to have stabilized and the market now looks cheap," said Greg Lesko, a money manager at Deltec Asset Management in New York.
So perhaps it's too early to make the call on EWZ's fate.
(
Updates with performance of EWW fund. An earlier version corrected the name of the Global X MSCI Colombia ETF in third paragraph.
)