markets
Commodity ETF Flows Show Investors Bracing for a Trade War
By and
Commodity ETF Flows Show Investors Bracing for a Trade War
By and
Trading spikes for soybean fund as tariffs loom on exports

Copper fund sees outflows; gold gains in safe-haven bid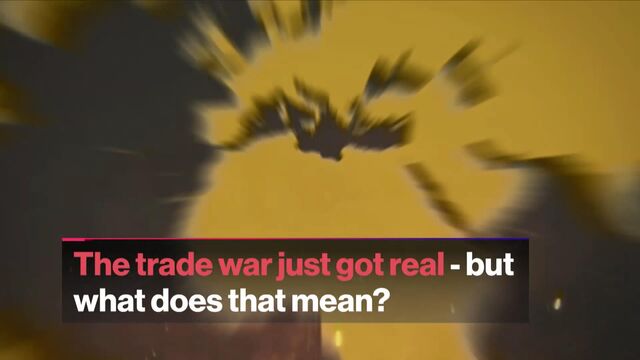 The U.S.-China trade war's about to see its first shots fired, and investors in commodity exchange-traded funds spent the last month getting ready.
The group pulled the most money since February from an ETF that tracks copper, as investors grew concerned tariffs will sink the price of the industrial metal. Trading in the main U.S. ETF for soybeans spiked to triple the 10-year average as the crop's prices tumbled. And haven seekers piled into a precious-metals fund at a rate not seen since 2016.
The moves highlight the stakes for commodities investors with a midnight deadline looming for U.S. tariffs on $34 billion worth of Chinese imports. China has threatened immediate and commensurate retaliation.
For Goldman Sachs Group Inc., the concerns that commodities will suffer have been overblown. The bank, a longtime bull on natural resources, said forget about warnings that a trade war will damp demand for raw materials. It's forecasting a 10 percent return on commodities over the next year.

"The trade war impact on commodity markets will be very small, with the exception of soybeans where complete rerouting of supplies is not possible," said analysts including Jeffrey Currie, Goldman's global head of commodities research, in a July 4 note.
Soybean prices have plunged in the past month, but the bank says the move has been overdone and the crop "is now a buy." The Teucrium Soybean Fund, or SOYB, tumbled more than 12 percent last month, with trading activity at the the highest levels in six years. Not all bets were one-way, though, as the fund's market capitalization held steady near $17 million.

Investors have been scooping up shares of gold funds, as the precious metal is commonly used as a safe haven asset. GDX, the VanEck Vectors Gold Miners ETF, took in $939 million in June, the most since September 2016. The gold surge may be fading, though, as strategists say the U.S. dollar has become the main destination for investors seeking safety.
The Global X Copper Miners ETF, or COPX, saw outflows of $2.4 million last month, the most since February. The metal has fallen 14 percent this year on concern demand will be affected by tariffs.