markets
Bond Traders Now Betting Rate Cut Just as Likely as Hike in 2020
By and
Bond Traders Now Betting Rate Cut Just as Likely as Hike in 2020
By and
Gap between Dec19 and Dec20 eurodollar futures turns negative

Shrinking spread a sign investors see hiking cycle nearing end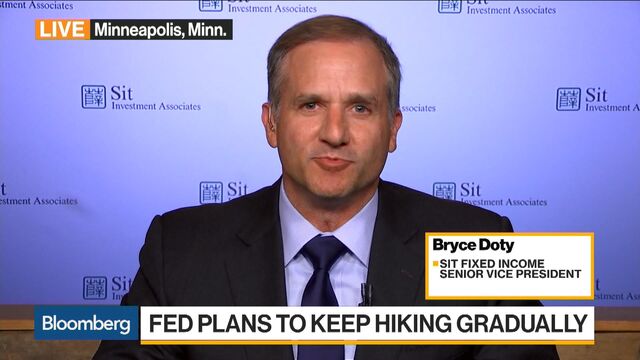 Bond traders are calling time on the Federal Reserve's tightening cycle.
The spread between December 2019 and December 2020 eurodollar contracts fell below zero Wednesday for the first time, suggesting short-end traders don't expect the central bank to raise interest rates at all after next year. In fact, they're giving slightly better odds that the Fed eases policy over the span instead of tightening it.
The spread's dip into negative territory is the culmination of a trend months in the making as investors bring forward their expectations for when America's economic expansion -- and therefore the Fed's tightening cycle -- will end. It contrasts with the most recent summary of economic projections, which shows that a majority of officials expect to hike rates once or twice in 2020.

The divergence between trader and policy maker expectations is partly a product of contrasting views on whether productivity gains are set to drive further growth, according to TD Securities rates strategist Gennadiy Goldberg.
"The Fed expects productivity to pick up gradually in the coming years, raising the neutral rate," said Goldberg. "The market appears to be taking an 'I'll believe it when I see it' approach."
Fed funds futures suggest about two basis points of policy tightening in 2020, according to data compiled by Bloomberg. Eurodollar futures imply about 41 more basis points of hiking this year, should FRA-OIS remain stable, and 34 more basis points in 2019, the data show.
The eurodollar spread inverted as trade tensions between the U.S. and China approached a boiling point, with the U.S. threatening tariffs on an additional $200 billion worth of imported Chinese goods. Fed tightening bets were pared as bond traders weighed the economic implications of the tariffs, according to Ben Emons, chief economist and head of credit portfolio management at Intellectus Partners.
"Markets are reminded that economic policy (tariffs) can establish conditions for Fed policy in the future," Emons wrote in a Wednesday note. "To that effect, markets judged quickly that a tightening policy has to shift to an easing policy once tariffs and other economic measures take their toll on the economy."
(
Adds analyst comments in the final paragraph.
)