economics
Carney's Rapport With Traders Tested as Bets Build on BOE Hike
By , , and
Carney's Rapport With Traders Tested as Bets Build on BOE Hike
By , , and
Markets are pricing in 80 percent chance of an August move

Governor has history of pulling back from expected changes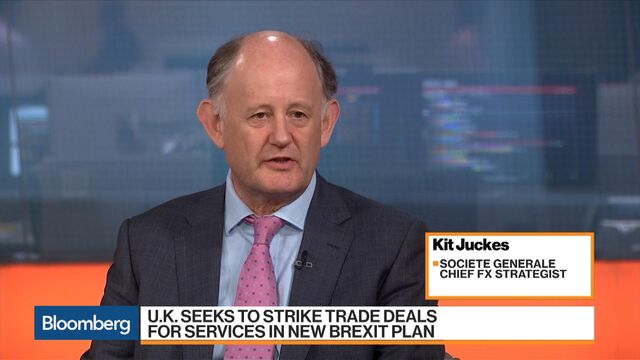 With investors firmly penciling in an interest-rate increase next month from the Bank of England, Mark Carney's communication is back under the microscope.
The market probability of an Aug. 2 hike stands at about 80 percent, near the levels seen in the run up to May's meeting when Carney intervened to damp expectations. With three weeks to go until the BOE announces its next decision and latest forecasts, the Governor has thus far passed up chances to do the same this time.

Indeed, his most recent public statement only served to stoke bets on a quarter-point increase to 0.75 percent.
Carney has long faced criticism for his communication, and the "unreliable boyfriend" tag given to him by a politician has stuck with him for years. With less than a year to go before he leaves the BOE, the stakes for getting the message right are arguably getting higher as he seeks to prove that his forward guidance works effectively.
Before May, investors had nearly fully priced in a hike until weak data prompted an intervention from Carney that there would be other chances to tighten this year. The press conference that month was dominated by questions about the bank's communication. Backing away a second time, particularly given the improvement in the economy, could spark further doubt about the bank's credibility.
Anticipation
"Given they've created the anticipation and expectation of a hike now, and the way the data's looking, there's a greater danger of pulling back now," said Andrew Goodwin, senior economist at Oxford Economics Ltd. "The circumstances are very different this time around compared to May."
Carney has played it a bit safer this time, sticking to his broad guidance that rates will probably need to go up in the coming years. In the past he's flagged that increases may arrive in "coming months."
Carney brought his signature policy of forward guidance from the Bank of Canada to the BOE in 2013. He quickly ran into problems, including in 2014 when he backtracked on rate messages within weeks, and again the following year.
The early signs are that things may be different in August. Recent U.K. data has backed up the BOE's thesis that the U.K. economy is rebounding from a weak first quarter, while three policy makers, including Chief Economist Andy Haldane, are already backing a rate hike -- one more than before May's decision. That's led to a smooth increase in investors' bets on a hike, reducing the risk of market volatility when the decision is made.
Brexit
The big caveat remains Brexit, which has once again plunged the government into turmoil and sparked an escalation of infighting within Prime Minister Theresa May's Conservative Party.
Even so, Carney's previous caution has been absent. Indeed, rate hike bets were further boosted last week when the governor said the economy was showing signs of rebounding from a sluggish first quarter of the year, supporting the view that it will require higher interest rates. Meanwhile an appearance at an event in the U.S. on Wednesday yielded no public comments.
"The data has been doing a lot of the communication for them,'' said James Rossiter, an economist at TD Securities who used to work at the BOE. "The fact we're hearing nothing from the BOE suggests that they are happy."