deals
Fox Has Next Move in Sky Fight After $34 Billion Comcast Bid
By , , and
Fox Has Next Move in Sky Fight After $34 Billion Comcast Bid
By , , and
Cable giant's latest offer is 5.4% higher than Fox's price

Independent Sky directors back sweetened buyout terms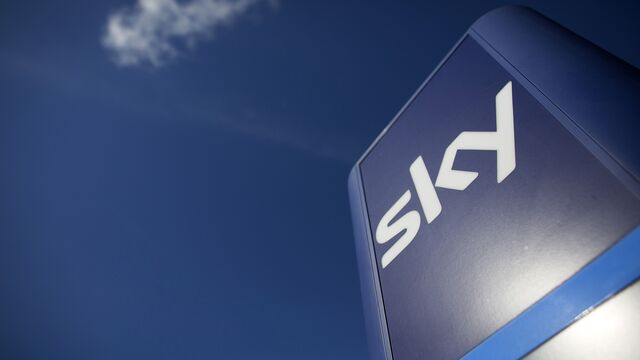 It's up to Rupert Murdoch's 21st Century Fox Inc. to make the next move in a global standoff between media giants after Comcast Corp. increased its offer for Sky Plc to 26 billion pounds ($34 billion).
A full-blown bidding war has broken out over Britain's top pay-TV provider this week after Fox upped the ante, triggering the response from Comcast just hours later.
Comcast, the largest U.S. cable company, offered 14.75 pounds a share late Wednesday. That's 5.4 percent above the latest proposal from Fox, which already owns a stake in the European broadcaster. Sky shares traded above Comcast's offer on Thursday as investors anticipated even higher bids.
"Current offers fall well short of knock-out levels," Jerry Dellis, an analyst at Jefferies LLC, wrote in a note. The new bid is "merely the opening shot."
Comcast's move is the latest twist in an international tussle that also includes Walt Disney Co. Both Comcast and Disney have been vying to acquire Fox's entertainment assets -- a contest tied to the Sky bidding war. The media giants are digging into a rare M&A battle with much at stake: streaming companies including Netflix Inc. are poaching their subscribers as content increasingly moves online.

"You can understand why both of them want Sky," said Crispin Odey, founder of Odey Asset Management LLP, a Sky shareholder. "The truth is you've got Netflix in the background frightening everybody."
Comcast's sweetened bid won the backing of Sky's independent directors, and the cable company has lined up financing. Fox acknowledged the increased bid.
Sky shares rose as much as 3.2 percent to 15.41 pounds in London, while Comcast shares climbed as much as 1 percent to $34.12 as of 9:47 a.m. in New York trading. Fox was little changed.
International Scale
"There is a possibility Comcast puts a lot of chips backing its Sky bid and is less aggressive in its pursuit of Fox," said Paul Sweeney, an analyst with Bloomberg Intelligence. The cable giant may "just want international scale."
Comcast is still assessing its options on the other Fox assets it's seeking, people familiar with the situation said, and has to consider the role the U.K. takeover authorities play in the bidding. If Comcast also raises its Fox bid, British authorities could demand the company also increase its offer for Sky, based on a rule known as the chain principle.
Click here for more on how the Takeover Panel could affect the battle for Sky
If Comcast prevails in the fight for Sky, advisers may counsel Comcast Chief Executive Officer Brian Roberts to drop his pursuit of Fox's entertainment assets to focus on the U.K. media company, according to a person familiar with the matter.
Murdoch currently has a deal to sell Fox's entertainment assets to Disney, including its 39 percent Sky stake, with his shareholders scheduled to vote on July 27. Murdoch's higher bid for Sky earlier Wednesday put pressure on Roberts to come back with a higher price.
The U.K. government on Thursday approved the Sky bid from Fox, which satisfied concerns that Murdoch wouldn't gain too much of a hold over British media. The approval is conditional on Fox selling Sky's 24-hour news channel to Disney.
Minority Stake
Fox sought to acquire the remaining 61 percent of the company with its bid, and that business would eventually have gone to Disney -- assuming that transaction also is completed.
Fox initially went after Sky in December 2016, offering 10.75 pounds per share, but was held up over concerns that the tie-up would give Murdoch too much influence over Britain's media.
Comcast has been expected to abandon its bid for Fox and focus instead on winning Sky, according to Jonathan Chaplin, an analyst at New Street Research LLC. "Of all the assets in the Fox portfolio, they probably view Sky as the most strategically important," he said earlier in a note.
Sky gives Comcast an opportunity to expand beyond the U.S. and reach more consumers directly. Sky has 23 million customers in five European countries and also boasts a market-leading platform, its Q box and a suite of premium TV content. Of the assets he's seeking to acquire from Fox, Disney CEO Bob Iger called Sky "a real crown jewel."
Philadelphia-based Comcast said it has already gained regulatory approval in the European Union, Austria, Germany, Italy and Jersey. It expects to complete its takeover of the U.K.-based company by the end of October.
(
Updates with analyst comment in fourth paragraph, shares in eighth paragraph.
)