markets
Croatia Nominates Former Central Bank Chief for Another Term
By
Croatia Nominates Former Central Bank Chief for Another Term
By
Vujcic's first term as central bank chief expired on Sunday

Parliamentary committees backed his candidacy for the post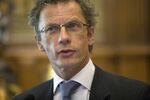 Two parliamentary boards backed Boris Vujcic to lead Croatia's central bank for another six-year term, ending days of uncertainty over who would head the authority after his first term expired on Sunday.
Vujcic's candidacy still needs to be approved on Friday by lawmakers in parliament, where the ruling coalition controls a majority. While Vujcic will stay on the job, ruling-party lawmakers are seeking to replace one of his deputy governors and three vice-governors.

Vujcic, 54, has pledged to usher the European Union's newest member into the euro area, with Prime Minister Andrej Plenkovic saying in September that the goal is to enter the common currency's waiting room, known as ERM-2, by 2020. Under Vujcic, the monetary authority has centered its policy on the exchange rate, keeping the kuna anchored to the euro. The currency switch may particularly help tourism, which accounts for about a fifth of the economy.
"This is good news," Velimir Sonje, head of the Zagreb-based financial services consultancy ArhivAnalitika, said by phone. "It's a sign of continuity and determination to continue with the implementation of the euro strategy, in particular to enter ERM-2."
While Croatia complies with some of the five so-called Maastricht criteria for adopting the common currency, its public debt was 78 percent of annual output in 2017, above the required ceiling of below or heading toward 60 percent, according to Eurostat.
Sandra Svaljek, an economist and a member of the Zagreb city government, is slated to be the next deputy governor. Slavko Tesija, Martina Drvar and Roman Subic are nominated to take over as vice governors.