business
U.S. Producer Prices Rise From Year Ago by Most Since 2011
By
U.S. Producer Prices Rise From Year Ago by Most Since 2011
By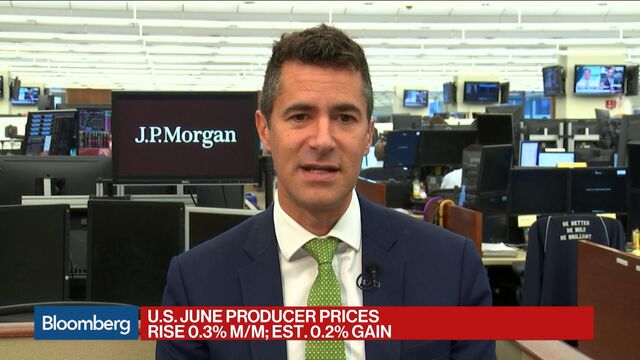 U.S. wholesale prices rose in the 12 months ended in June by the most since November 2011 as the costs of services accelerated, a Labor Department report showed Wednesday in Washington.
Highlights of Producer Prices (June)
Producer-price index rose 3.4% y/y (est. 3.1%) after 3.1% gain in prior 12-month period
PPI rose 0.3% m/m (est. 0.2%) after 0.5% gain the prior month
Excluding food and energy, core gauge also rose 0.3% m/m (est. 0.2%) and was up 2.8% y/y (est. 2.6% gain)
PPI excluding food, energy, and trade services, a measure some economists prefer because it strips out the most volatile components, increased 2.7% y/y
Key Takeaways
The figures, which measure wholesale and other selling prices at businesses, indicate that inflation pressures in the production pipeline are firming amid rising demand and tariffs on steel and other goods.
The June index for final demand services climbed 0.4 percent from a month earlier, the most since January, and 2.8 percent from the same month a year ago. More than 40 percent of the advance was due to higher retail margins for fuel.
The gain also reflected a 1.3 percent month-over-month jump in truck transportation of freight, the largest in data back to July 2009.
In contrast, the cost of goods rose 0.1 percent in June from a month earlier, reflecting cooling energy prices, after a 1 percent May surge.
While the consumer price index -- due Thursday -- is considered a more important indicator of inflation, producer prices help provide insights into the direction of input costs that businesses are facing.
Concern about higher materials and services costs remains elevated after the U.S. imposed tariffs on aluminum earlier this year, followed by additional levies on other Chinese imports. The Trump administration announced Tuesday that it's ready to impose tariffs on $200 billion of Chinese-made products, ranging from clothing to television parts to refrigerators.
Other Details

Excluding the volatile categories of food, energy, and trade services, producer costs rose 0.3 percent from the previous month following a 0.1 percent increase
Energy prices rose 0.8 percent from the prior month after jumping 4.6 percent; food costs fell 1.1 percent
— With assistance by Chris Middleton
(
Updates with graphic. A previous version corrected tariff on aluminum in Takeaways section.
)