politics
After Meeting an Unpredictable Trump, NATO Lives to Fight Again
By
After Meeting an Unpredictable Trump, NATO Lives to Fight Again
By
Biggest summit achievement may be Trump leaving happy

Intiatives to reinforce troop response to east adopted intact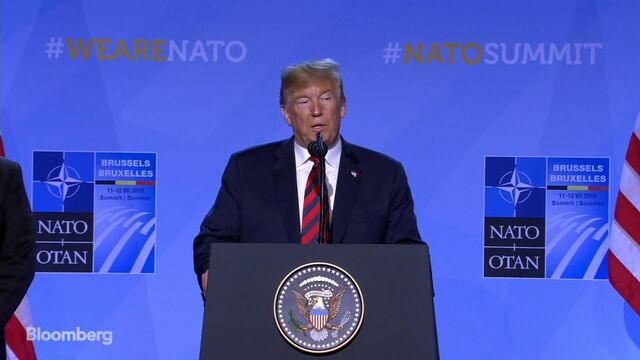 The worst fear among American allies ahead of this week's NATO summit was that Donald Trump would turn it into last month's Group of Seven meeting in Canada. He would reject any decisions, and this time on a far more consequential stage. It didn't happen.
It may have come close. Trump forced a second, emergency meeting to demand rapid spending increases from allies. His vehement attacks on Germany and his apparent lack of concern for alliance unity shocked many. But after all the tumult, Trump agreed.

He took a victory lap for the $41 billion already added to European and Canadian defense spending since he took office. As the curtain came down on the summit on Thursday, nothing was broken.
"In the end it was a good outcome for NATO, although the tensions along the way could be damaging for the alliance's underlying relationships," said Fred Kempe, president of the Atlantic Council, a Washington think tank that organized a conference inside the summit's security cordon in Brussels.
Backed by a supportive Secretary General Jens Stoltenberg, Trump argued in his closing press conference that the North Atlantic Treaty Organization was actually left stronger and more united because of his hardball tactics. If so, it could also be because the president of the U.S., the alliance's most important member, left happy.
"NATO comes out of this summit much stronger because we heard the U.S. president reaffirm his commitment to a strong NATO," French President Emmanuel Macron told reporters.
Spending More
Trump does not, in the end, appear to have won any concrete commitment to increase defense budgets by more than the 2 percent of gross domestic product target agreed in 2014, or on a shorter time scale. Macron simply said the allies had reaffirmed the 2014 commitment.
Arguably, Trump could have claimed victory for the budget increases he said had already taken off "like a rocket ship" a day earlier, without all the turmoil. But there's little doubt the other 28 NATO members left for their capitals with his message clear.
None disputed his fundamental point, made by previous U.S. presidents too, that the American share of NATO military spending is too high, at 72 percent.
"To say that the meeting was in a crisis would be too strong," said Lithuanian Foreign Minister Linas Linkevicius. "It was a fierce dialog."
If Trump had pulled a G7, the consequences would have been significant. The NATO summit's most substantive agenda items included the creation of new capabilities to reinforce troops in the Baltic States and Poland much faster in the event of attack, and a training program for Iraq among others.
A failure to agree on those initiatives, in which the U.S. has taken the lead, would have been a severe set back and clear signal of trouble in the alliance.
What may matter most about the summit, though, is how it is viewed by Russian President Vladimir Putin, who will meet Trump in Helsinki on July 16.
The chaos he caused in Brussels could be interpreted as a sign of Trump's fundamental ambivalence toward NATO. But equally it could offer further evidence of unpredictability, making it risky to assume how the U.S. president would respond to a test of NATO's collective defense clause.
Asked on Thursday what she thought might come of the Trump-Putin summit next week, Lithuanian President Dalia Grybauskaite said "not much, hopefully." She told Trump "to be unpredictable, as much as possible," she said. "And to be more unpredictable than with us."
— With assistance by Patrick Donahue, Gregory Viscusi, and Milda Seputyte