economics
Bank of Canada Goes Back to Basics With Economy Running Hot
By
Bank of Canada Goes Back to Basics With Economy Running Hot
By
Poloz sounds confident, says models are 'doing it right'

Odds of a hike in October jumped to about 65%, up from 50%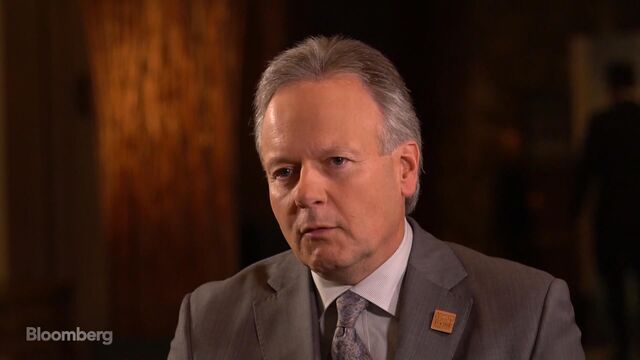 It's back to basics for the Bank of Canada.
Under Governor Stephen Poloz's leadership, the central bank has avoided a mechanical approach to policy changes. But right now, it's getting easier to do just that since key indicators have evolved positively and the central bank's models are running like a fine-tuned machine.
The economy is "operating at capacity with inflation already at target, so those are your basic ingredients which suggest that interest rates cannot continue to be excessively stimulative," Poloz said after Wednesday's decision to lift rates to 1.5 percent.
Officials estimate that the output gap -- the difference between the economy's potential and actual growth -- was completely closed in the second quarter as above-trend activity reduced slack. Meanwhile, headline annual inflation has picked up to run just above the top half of the central bank's 1 percent to 3 percent target range for three consecutive readings.
With the central bank's confidence swelling as data evolve according to its expectations, traders are betting that continued confirmation of their growth narrative could foster a further normalization of interest rates in three months' time. The implied odds of an October interest rate hike rose to two-in-three from less than one-in-two ahead of this decision.

Strategists who doubt the central bank's resolve to deliver additional rate hikes are "under-appreciating what that fundamental modeling is really pointing towards," said Brett House, deputy chief economist at Scotiabank in Toronto. "Underpinning everything going on at the bank is a very traditional model of the Canadian economy."
Scotiabank expects Poloz will raise rates again in 2018 and three times in 2019.
Doing It Right
The stabilization in housing activity, a rebound in second-quarter growth, and underperformance of interest-rate sensitive segments of consumer spending are all in keeping with the bank's expectations, according to the governor.
"We got the 1.3 for Q1 exactly right," Poloz said, referring to the rate of GDP growth, "which really bolsters your confidence, suggests that your models are doing it right and your people understand well what you're facing."
This show of faith is a shift for Poloz, who said upon his return to the central bank in 2013 that its economic models "are a better source of questions than answers."
Real policy rates are still negative in inflation-adjusted terms. The overnight rate is also 150 basis points below the central bank's estimate of neutral, the level at which policy is neither accommodative nor contractionary in the absence of any material headwinds or tailwinds for the economy. That gives the central bank room to continue with rate hikes without risking a significant slowdown in activity. And rates would already be higher, if not for trade-related uncertainty and elevated indebtedness among Canadian households.
"Right now we're just waiting for the data to continue to confirm that our beliefs are well-founded and as that happens our confidence will continue to grow," he said on Wednesday.

Canadian central bankers also took the opportunity to reaffirm their primary mandate and define the scope of their power.
"The last thing you can have happen is have inflation expectations begin to be revised upwards," said Poloz in discussing how the bank might respond to an escalation in trade tensions.
The words are somewhat of a throwback to central bankers of the Great Moderation, who emphasized the importance of keeping price pressures predictable, stable, and low in order to limit macroeconomic volatility.
"In many ways Poloz is a much more traditional central banker," said Frances Donald, senior economist at Manulife Asset Management, who's calling for another hike in October. "He's focused on the output gap generating inflation, he doesn't believe in forward guidance, and he doesn't believe a central bank's job is to cure all the problems in the economy."
This entails that even a negative shock to the Canadian economy in the form of auto tariffs might not necessarily elicit easing from the Bank of Canada, whose leadership signaled that monetary policy is no panacea for such structural shifts.
"When an economy gets buffeted by major structural changes, the one thing you can be sure about is the solidity of your macro fundamentals," said Senior Deputy Governor Carolyn Wilkins. "And inflation control is just at the base, we take it a little bit for granted because we've had it for so long but you just need to look to other countries or other times in Canada's history to see just how useful it is today."