markets
BTG Founder Esteves Acquitted in Brazil Witness Tampering
By
BTG Founder Esteves Acquitted in Brazil Witness Tampering
By
Judge says there's no 'valid proof' against the banker

Esteves was briefly jailed in 2015 due to obstruction charges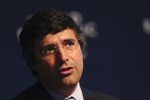 Andre Esteves, the founder of investment bank Banco BTG Pactual, was cleared by a Brazil federal judge of charges he participated in a corruption scheme, which had led to his arrest in 2015.
Judge Ricardo Leite acquitted the banker on Thursday, saying there was no "valid proof" for a conviction, according to a court document. In September, prosecutor Ivan Claudio Marx had recommended that the charges be dropped.
Esteves spent three weeks in Rio de Janeiro's Bangu prison in late 2015, charged with participating in a scheme to tamper with testimony of a former Petroleo Brasileiro SA executive, Nestor Cervero. Esteves, authorities alleged at the time, had discussed with the then-leader of the government coalition in the Senate, Delcidio Amaral, a way to interfere in Cervero's testimony related to a pay-to-play scheme at the state-run oil giant. BTG and Petrobras are partners in a group of African oil fields. Esteves always denied wrongdoing.
Esteves was expected to rejoin the investment bank's controlling group after being cleared, people with direct knowledge of the matter said in February. Last year, Chief Executive Officer Roberto Sallouti said Esteves wouldn't retake his former chairman or CEO titles.
Shares of the company rose as much as 3.6 percent in Sao Paulo.
BTG's Bailout
Esteves made a splash a decade ago -- and became Brazil's youngest self-made billionaire -- by selling Pactual to UBS Group AG for $2.6 billion. He and several partners bought it back three years later and started an expansion. BTG went public in 2012 and snapped up businesses including the Swiss private-banking unit of Assicurazioni Generali SpA, BSI, which was sold in 2016.
The Sao Paulo-based investment bank, whose fallen chief once joked that its initials stood for "better than Goldman" -- the U.S.'s Goldman Sachs Group Inc. -- welcomed Esteves back as a senior partner two days after he was freed from house arrest in April 2016.
The company he returned to was a shadow of the empire he left. Nine days after Esteves's arrest, facing a liquidity crisis amid a surge in redemptions, the bank obtained a rescue of 6 billion reais ($1.6 billion) from Brazil's privately owned deposit-insurance fund. In the following months, BTG unloaded more than $3.5 billion in assets and cut jobs in offices around Latin America and in London and New York, reducing its Brazil payroll by more than 20 percent. The stock lost more than 35 percent of its value at the time.
Management scratched ambitions for the bank to become a global powerhouse, with, among other things, a wealth-management business on several continents. In November 2016, BTG completed the sale of BSI, its Swiss private-bank unit, to EFG International AG.
BTG's bonds have recovered all of the value lost in the wake of Esteves's arrest in November 2015 and in recent quarters the bank has seen an increase in total assets and record volume of net new money for its wealth-management business, in part thanks to a digital banking strategy to lure retail investors.
Thursday's sentence also absolved other people, including former President Luiz Inacio Lula da Silva, who's in prison serving time after being found guilty of graft in a different case.
(
Updates with context, share price starting in third paragraph.
)