business
The Big European Dreams of a World Cup Finalist
By , , and
The Big European Dreams of a World Cup Finalist
By , , and
Lawmakers back pro-euro central bank chief for another term

EU's newest member seeks to enter euro waiting room by 2020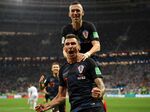 Croatia is brimming with confidence, and its leaders think it's time for the European Union's newest member to take a step up on the global stage as well.
A cabinet meeting in Zagreb on Thursday kicked off with every minister proudly wearing the national soccer team's jersey in celebration of the 2-1 World Cup victory over England. Having joined the elite group of nations that have made it to the final, Croatia has another club in its sights: the euro zone. The goal was confirmed on Friday as lawmakers backed a pro-euro central bank Governor Boris Vujcic for a new six-year mandate.
Many of the EU's poorer countries see the common currency as a way to anchor their place in an increasingly divided alliance. While some of the ex-communist nations -- Poland, the Czech Republic and Hungary -- have no firm plans to switch to the euro, others are eager to join. Bulgaria and Romania are in various stages of preparation.
"Entering the euro zone should be good for Croatia," said Zeljko Lovrincevic, professor at the Economic Institute in Zagreb. "But the process may be difficult."
Vujcic's re-election is bound to help Prime Minister Andrej Plenkovic, who vowed to enter the euro's antechamber, known as ERM-2, by 2020. The big question is how much a currency area that has just tidied up after the Greek debt crisis is willing to take in another Balkan member. Despite being technically ready, fellow ex-communist peer Bulgaria slowed down its plans to apply for the ERM-2 after getting the cold shoulder from the European Central Bank and the European Commission.
"Entry into the euro zone is the natural next step and we believe that Croatia will soon become a good candidate for the ERM-2," Vujcic told Bloomberg News by email just hours after his confirmation in parliament. "We are confident that euro adoption will have a significant positive impact on the Croatian economy."

While being richer than Bulgaria, Croatia doesn't tick all the economic boxes for ERM-2 entry. Even as the kuna is kept in a tightly controlled currency band against the euro and the government ended last year with a budget surplus, it misses the so-called Maastricht requirements on inflation and debt, which was 78 percent of economic output in 2017, above the required ceiling of below or heading toward 60 percent.
EU officials have also become more cautious about expanding the euro area following money-laundering scandals in places like Latvia and Estonia. Although Croatia hasn't had a major blowup in its mostly foreign-owned banking industry, its biggest company, Agrokor, unraveled last year, shaking lenders and causing a deputy prime minister to resign.
On the soccer pitch, ultimate glory is just one step away and the team's surprise run has already boosted the tourism-driven economy, with surging sales of beer and television sets. The currency switch may also not be that far off, with the euro already used widely for savings and for calculating the cost items from cars to apartments, according to Hrvoje Stojic, chief economist at the Croatian unit of Addiko Bank.
"Croatia has a better chance than Bulgaria, as it has stronger institutions," he said. "Croatian indicators, such as public debt, have also improved recently."
(
Updates with exclusive comments from governor in sixth paragraph.
)