markets
Five Things You Need to Know to Start Your Day
Here are some of the things people in markets are talking about.
By
Five Things You Need to Know to Start Your Day
Here are some of the things people in markets are talking about.
By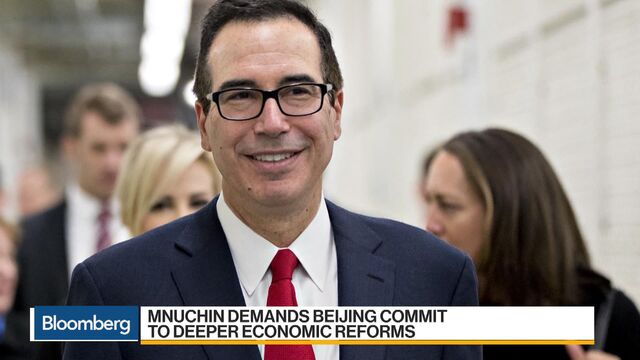 Want to receive this post in your inbox every morning? Sign up here
A lull in the escalating U.S.-China trade conflict allowed global equities to grind higher Thursday. Yield curve flattening is hitting bond markets across Asia. And Trump deals Theresa May a double blow. Here are some of the things that people in markets are talking about.
Time to Talk?
The U.S. and China signaled they were open to resuming negotiations over trade after days of exchanging retaliatory threats, though Treasury Secretary Steven Mnuchin said Beijing must commit to deeper economic reforms. Mnuchin told the House Financial Services Committee on Thursday that he and administration officials are "available" for negotiations, as he called U.S. tariffs imposed on China a "modest" step aimed at leveling the playing the field. "To the extent that China wants to make structural changes, I and the administration are available," Mnuchin said on Thursday. "We are not advocating tariffs. We are advocating fair trade."
Curve Flattening Goes Global
Bonds in Indonesia, India and Australia are witnessing a flattening of  yield curves that's showcasing the challenges these formerly-favored markets face as dollar liquidity tightens. While Indonesia rushed to raise interest rates to stem a rout in the rupiah, continued weakness in the currency amid an emerging-market rout deepened by the U.S.-China trade war is fanning bets for further tightening. Aberdeen Standard Investments expects the nation's yield curve to remain flat in the near term. However, India — which last month increased benchmark rates for the first time since 2014 — will probably see its curve steepening later in the year. The same is expected for Australia, with rising yields on U.S. Treasuries seen driving the nation's long-end borrowing costs higher.
Trump Deals a Double Blow to May
President Donald Trump said U.K. Prime Minister Theresa May's plans for a soft Brexit would end any hopes of a trade deal with the U.S. and suggested Boris Johnson, who quit her cabinet earlier this week, would be a better leader than her. "If they do a deal like that, we would be dealing with the European Union instead of dealing with the U.K., so it will probably kill the deal," Trump said in an interview in the Sun newspaper published Friday. His comments come at the start of a three-day U.K. tour. Relations with the U.S. are a high priority for May, but Trump attacked her Brexit plan even before arriving in the U.K., saying the country was in "somewhat turmoil" and that meeting Russian President Vladimir Putin next week — her geopolitical enemy — would be easier than meeting her.
China Braces for Pain
Meanwhile, further evidence of the trade war's repercussions on China's economy is set to show up in data due over the next few days, although it will likely just be a taste of things to come. From exporters of Wi-Fi equipment to households splurging on Maine lobsters and other American goods, China is beginning to adjust to the effects of the current tariffs from both nations, and the possibility of more. Hints at what's happening will come in June's trade data on Friday and second quarter GDP figures due on Monday. The trade war arrives as the economy is already slowing, adding an external shock to a home-made one. "There appear to be some risks to the 6.5 percent target, but the government is still committed to it," said Chang Jian, chief China economist at Barclays Plc in Hong Kong.
Stocks Jump, Crude Rebounds
Stocks rallied as trade tensions appeared to ease after China held off from immediately retaliating against the latest U.S. salvo. The S&P 500 Index closed at the highest close since February as China seemed to strike a conciliatory tone in reaction to Trump's newest escalation of the trade war between the two countries. Technology shares led gains, sending the Nasdaq Composite Index to a record. Brent crude rebounded from the worst collapse in more than two years amid contrary indicators about whether global supplies will be scarce or abundant. Futures rose 1.4 percent in London on Thursday, while WTI closed little changed.
What we've been reading
This is what caught our eye over the last 24 hours.
— With assistance by Jess Shankleman