markets
Hedge Funds Turn to These Tiny Stocks That Have Been Quietly Surging
By and
Hedge Funds Turn to These Tiny Stocks That Have Been Quietly Surging
By and
Wiwynn, Yageo, Coupa are among top picks for some investors

Rays, APTA, Sylebra made early bets on overlooked stocks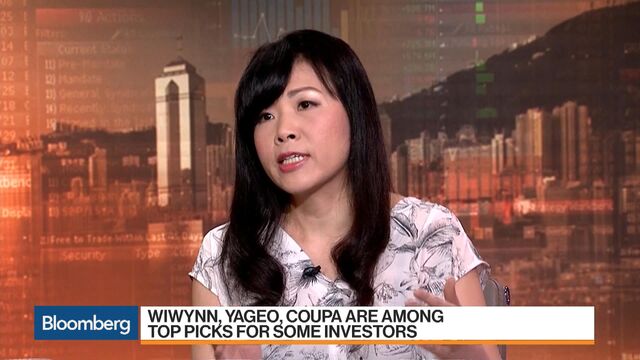 Chinese tech giants aren't the hot hedge fund favorites they once were.
Alibaba and Tencent are giving way to a new crop of top picks: smaller non-Chinese companies that have been quietly surging even as valuation worries and market jitters have weighed down the behemoths. Among the winners are Taiwan's Wiwynn Corp. and Yageo Corp., whose shares have more than tripled in 2018, and San Mateo, California-based Coupa Software Inc., whose shares have doubled.
Asian hedge funds such as Rays Capital Partners, APTA Investments and Sylebra Capital Management are profiting from early bets on these overlooked tech stocks, which they say have plenty more room to run. Sky-high valuations had many funds pare or avoid large tech stocks even before the recent slump.
"Tencent and Alibaba have been trading at relatively high valuations -- those are the types of stocks that are seeing more volatility and looking more expensive," said James Norman, head of equity strategy for $21 billion money manager QS Investors, which uses a quantitative strategy to pick stocks. "They've had a great run but what we're focused on is some of the other parts of the technology world," said the manager, who is turning to sectors such as Taiwan's semiconductor companies with stable cash flows.
Tat Wang, who manages a $55 million technology fund for Hong Kong-based Rays Capital, has invested in companies such as Wiwynn, a data center supplier to Facebook Inc. with hardly any analyst coverage, and Yageo, which makes tiny components used in circuit boards. The Rays Capital fund is up an estimated 21 percent this year, according to an investor update.
"This year is very special," said Wang. "Many big caps have limited growth because they're dragged by the smartphone industry, which has no volume growth."
Sylebra Capital Management, a Hong Kong-based hedge fund firm overseeing $1.25 billion, has bet on Coupa, which has helped fuel gains. Sylebra's hedge fund gained 25 percent in the first half of the year, the firm said.
Coupa, which provides cloud-based software to help customers automate procurement and expense management, has beaten all but Netflix Inc. this year among the 10 constituent stocks of the NYSE FANG+ Index that tracks big technology companies.

At APTA Investments, a hedge fund backed by Dymon Asia Capital (Singapore), Chief Investment Officer Jeff Zielinski is betting on a pair of silicon wafer makers. Japan's Sumco Corp. and Taiwan's Sino-American Silicon Products will benefit from price increases as China attempts to boost domestic semiconductor production, he said.
Some of the biggest mainland tech companies have been hit especially hard this year as President Donald Trump's administration cracks down on Chinese investments in U.S. technology, from takeovers to venture capital funding rounds.
E-commerce giant Alibaba Group Holding Ltd. is down 10 percent from last month's high, while Tencent Holdings Ltd. has tumbled nearly 20 percent from a January peak. They're still not cheap -- even after the selloff, the companies are still trading at valuations far higher than smaller companies. Singapore's sovereign wealth fund, which backed some of China's biggest technology startups, this week said it's becoming more selective about investments in the sector amid soaring valuations.
Here are some highlights of the companies the hedge funds are betting on, with share performances and forecasts calculated as of Wednesday:
Coupa Software Inc.
Shares surged 105 percent this year as the company added customers, expanded revenue and narrowed losses.
Acquired companies in 2017 including those that use artificial intelligence to help classify spending data and detect fraud, according to a Garner Inc. report.
Sino-American Silicon Products Inc.
APTA's Zielinski believes its stock price may increase by 90 percent through the end of 2019
Sino-American shares have rallied more than 50 percent this year, adding to the 128 percent jump in 2017
Sumco Corp.
Zielinski's price target for Japan's Sumco implies a 73 percent increase in shares by the end of next year from levels this week
Sumco has dropped more than 21 percent, caught by bearish sentiment toward cyclical Japanese stocks
Yageo Corp.
Rays's Wang said the company, which makes electronics components for vehicles, will benefit from upgrades to electronic systems in cars as well as the increasing popularity of hybrid and electric automobiles
Yageo's shares have surged 228 percent this year
Wiwynn Corp. and Taiwan Union Technology Corp.
Wang said heavy capital expenditure by U.S. Internet giants such as Alphabet Inc., Amazon.com Inc., Facebook and Microsoft Corp. on data centers is likely to benefit companies like Wiwynn and Taiwan Union Technology.
Wiwynn, which supplies data center components to Facebook and Microsoft, has climbed 279 percent this year as revenues soared
Taiwan Union Technology, which supplies printed circuit board laminates, has jumped 43 percent this year after a 125 percent rally in 2017
Appen Ltd.
Regal Funds Management has been a stakeholder of the firm, which provides data for machine learning and artificial intelligence, since before its 2015 initial public offering, said Chief Investment Officer Philip King
The stock gained nearly 50 percent this year, adding to last year's 193 percent rally
The company, whose clients include eight out of the 10 largest global technology firms, contributed to the nearly 7 percent return of Regal's Amazon Market Neutral Fund this year
(
Adds wealth fund's view in eleventh paragraph.
)