deals
Hydro One Board Redo Adds Risk to Avista Deal, Analysts Say
By
Hydro One Board Redo Adds Risk to Avista Deal, Analysts Say
By
Avista shares drop, widening spread to Hydro One's bid

Management shake-up driven by new government of Ontario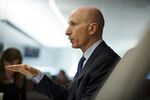 A shuffle among the top brass of Hydro One Ltd. poses a threat to the timely completion of its $3.4 billion acquisition of U.S. power supplier Avista Corp., analysts say.
Hydro One's Chief Executive Officer Mayo Schmidt retired and its entire board resigned late Wednesday, leaving questions unanswered about the fate of Hydro One's largest deal since the Toronto-based company went public in 2015.
The ouster came as Ontario Premier Doug Ford fulfilled an election promise to shake up the utility's executive team. Schmidt was the driver of the deal announced a year ago that would add Avista's energy production and distribution operations in Washington, Idaho, Oregon and Alaska to Hydro One's transmission network in Ontario, creating one of North America's largest regulated utilities, with assets totaling C$32 billion ($24 billion).
"Increased political interference in Ontario could negatively impact Hydro One's proposed acquisition of Avista, either by necessitating further guarantees to secure regulatory approvals, or in an extreme case, leading to regulatory denial of the transaction," Jeremy Rosenfield, an analyst at Industrial Alliance Securities, wrote in a note. "At a minimum, the transaction could be delayed."
Shares Dive
Shares of Spokane, Washington-based Avista fell 4.6 percent to $50.30 in New York on Thursday, the most since February 2015. That widened the spread to Hydro One's $53 offer price to the most in four months, according to data compiled by Bloomberg. Hydro One shares fell 3.2 percent to C$19.52, after falling a record 7.9 percent at the open in Toronto.
The shake-up "does not bode well for the Avista acquisition, which does not yet have all required regulatory approvals," Robert Catellier and Archit Kshetrapal, analysts at CIBC World Markets, wrote in a note. "We expect the existing executive to continue pursuing this acquisition, but Avista's regulators may hesitate in light of the new uncertainty surrounding Hydro One's board and CEO turnover."
The deal has faced delays already. When it was announced, the companies expected to complete the merger by the end of the second quarter. Hydro One said a day before the management changes that it expected to complete the deal this year, having received federal regulatory clearances and approvals in Alaska and Montana. It still awaits approvals from Oregon, Idaho and Washington.
"The negotiated agreement and the proposed legislation do not in any way impact U.S. operations," Ontario's Energy, Northern Development and Mines Ministry said in an emailed statement.
Hydro One remains committed to the Avista deal and continues to expect its closure in the second half of the year, according to a statement from the company.
"Our outlook on the transaction and ability to service the Avista assets has not changed," Jay Armitage, director of communications for Hydro One said in an email. "As part of the deal, Hydro One and Avista have made governance and financial ring-fencing commitments that will protect Avista customers, employees, communities and any subsidiaries."
Avista is monitoring the developments at Hydro One and continues to move through the regulatory process of the merger, its spokeswoman Casey Fielder said in an email.
— With assistance by Kristine Owram, and Mark Chediak
(
Adds comments from Hydro One and Avista at the end of the story, updates shares.
)