politics
U.S. Allies Play Down Trump's Spending Claims: NATO Update
By , , and
U.S. Allies Play Down Trump's Spending Claims: NATO Update
By , , and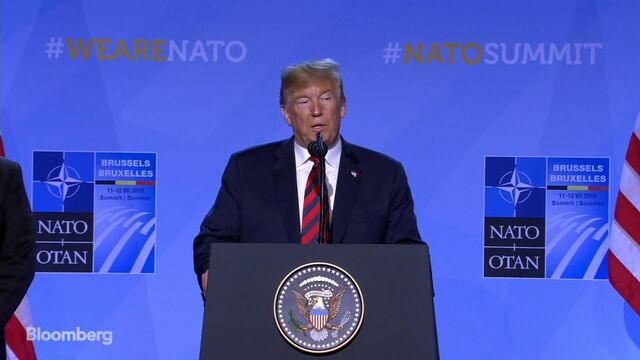 NATO leaders held an unplanned emergency session on the last day of their two-day summit, which has been upended by U.S. President Donald Trump's attacks on allies over defense spending.
We are following developments here in real time. Time stamps are for Brussels.
Italy now the closest to contradicting Trump outright (3 p.m.)
Italy has no plans to change its defense spending plans as a result of the summit, Prime Minister Giuseppe Conte told reporters. Italy has focused more on targets other than the 2 percent goal, such as increasing its participation in NATO missions. "It isn't just an accounting issue," Conte said.
Canadian Prime Minister Justin Trudeau highlighted previous commitments to hike defense spending and participate in ongoing NATO missions. An announcement last year of new spending was a "comprehensive, ambitious, once in a generation defense policy," he said, and gave no indication he'd cede to Trump's demand to add more money.
Merkel was also asked about spending (1:38 p.m.)
Merkel struck a non-committal tone and said "we should always be looking at what more we can do." That was not a promise, more of a peace offering.
Her full quote: "We'll have to talk about to what extent we can do more on defense. We presented the current situation. But considering the discussion among the European allies, not only the Americans, I think we need to ask ourselves consistently what more we can do."
Macron indicates allies not made new commitments (1:31 p.m.)
French President Emmanuel Macron was asked directly whether countries had committed to speed up spending, as Trump claimed in his news conference. Here was his response, which suggests their plans are the same as always.
"Everyone agreed to raise spending as they agreed in 2014, and everyone agreed to respect the commitments they made," Macron said. "We reaffirmed a credible budget strategy that meets our needs."
Trump news conference ended (1 p.m.)
Trump took several questions and addressed a variety of issues, from Iran to Brexit. He tempered expectations about his meeting with Putin. The big takeaway is that in spite of earlier rumblings about how he might threaten to pull out of NATO, he instead said his commitment to the postwar military alliance was "very strong."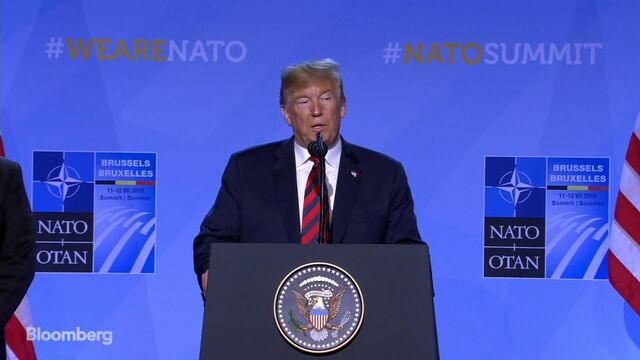 "Everyone's agreed to substantially up their commitment," Trump said in an impromptu press conference in Brussels. "I just want fairness for the United States." Trump said he probably could withdraw from NATO without congressional approval, but it won't be necessary.
Trump on Iran (12:53 p.m.)
Trump didn't exclude there could be an escalation with Iran, but said the Iranians are treating the U.S. "with much more respect" and predicted Iran will call him and say "let's make a deal."
Trump addresses Brexit and immigration (12:44 p.m.)
Trump said he is not bothered by the protesters in the U.K.: "I think it's fine."
"They like me a lot," he said. He said Brits agree with him on immigration: "I think that's why brexit happened."
Trump to ask about Russian meddling in election (12:34 p.m.)
Trump said he was going into the meeting with Putin "not looking for so much." He said he would also ask the media's "favorite question" about whether Russia interfered with the U.S. presidential election of 2016.
Asked whether he would recognize Russian annexation of Crimea, he called the question "interesting."
"I'm not happy about Crimea" but "I can't tell you" what will happen going forward, Trump said.
Trump defends his way of treating Germany (12:31 p.m.)
Trump called himself a "very stable genius" in the context of whether he would renege on what he agreed at NATO. Asked about whether he thought it was fair how he attacked Germany, the president said it was a "very effective way to deal."
Trump thinks he can pull out of NATO (12:28 p.m.)
"I think I probably can," was Trump's answer when asked if he thought he could withdraw the U.S. from NATO without the approval of Congress. However, he deems such a move not necessary.
Trump say he's committed to the alliance (12:25 p.m.)
Trump said he was very firm yesterday, and let them know Wednesday that he was "extremely unhappy" about their financial commitments. He said U.S. commitment to the alliance "remains very strong."
On Russia: "I hope that we're going to be able to get along with Russia."
In a packed room, Trump begins (12:20 p.m.)
Trump kicks things off by saying "we've had a very amazing two day period" and said "everyone's agreed to substantially up their commitment."
Merkel Talks, and Trump about to Brief (12:08 p.m.)
Merkel has given a statement to reporters after the emergency session, saying that we are stronger together and it should stay that way. Trump asked NATO allies for more burden-sharing, demanding what he's been asking for some time. It's been an "intense" summit, she said.
Crunch time (11:57 a.m.)
One EU diplomat with knowledge of the meeting said that it was a make or break moment.
Here is a recap of Trump so far (11:47 a.m.)
Trump has made a big deal about money and demanded last night that allies meet the 2 percent threshold immediately, and not by 2024. He has also floated the idea of 'going it alone' if allies don't comply, something which he has said before but he can't really do without an -- unlikely-- Congress approval.
Finally, he has also toyed with the idea of raising the threshold to 4 percent and thrown the summit into turmoil, in much the same way he did at the Group of Seven in Canada.
Some context (11:40 a.m.)
Trump used the session with Ukraine and Georgia to return to the question of NATO members' defense spending and used a "harsher" tone than yesterday, according to a European official with knowledge of the discussion. He targeted Germany in particular and referred to "Angela" more than once, saying something to the effect that she can do more. He also apparently referred to the cost of the new NATO headquarters. As a result of this twist, Secretary General Jens Stoltenberg called a session of the NATO leaders.
Trump set the tone last night with a tweet: "What good is NATO if Germany is paying Russia billions of dollars for gas and energy? Why are there only 5 out of 29 countries that have met their commitment? The U.S. is paying for Europe's protection, then loses billions on Trade. Must pay 2% of GDP IMMEDIATELY, not by 2025."
Trump has quipped about the U.S. going it alone before, only to have the administration walk back his comments. And still no comment from the White House or the State Department.
One EU diplomat with knowledge of the meeting said that it was a make or break moment.
Trump talks about U.S. 'go it alone' (11:26 a.m.)
NATO leaders hold an unscheduled meeting to discuss the alliance budget this morning, officials familiar with the matter said. One of the officials said the meeting takes place against the backdrop of Trump threatening allies to "go it alone" unless they agree to increase their defense budget immediately. A White House spokeswoman wasn't immediately available to comment.
Earlier:
Trump Sowing Divisions at NATO Seen as Helping Only Russia
— With assistance by Nikos Chrysoloras, Jess Shankleman, Viktoria Dendrinou, Lyubov Pronina, and Gregory Viscusi