markets
Jim Millstein Sees 'Perfect Storm' for Recession
By and
Jim Millstein Sees 'Perfect Storm' for Recession
By and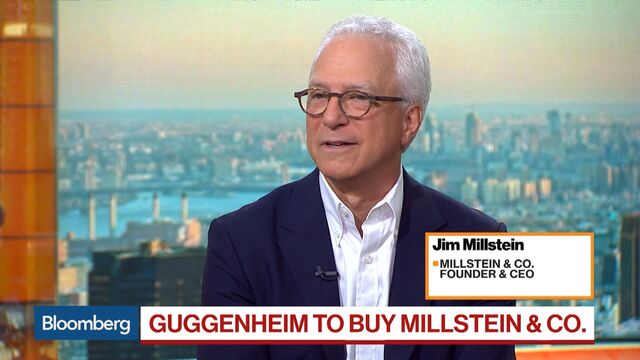 Jim Millstein, the restructuring veteran who agreed to sell his namesake firm to Guggenheim Partners, said the next economic downturn could strike in less than two years.
Trade wars heating up under U.S. President Donald Trump are likely to "reduce business investment, increase costs to consumers and producers in the U.S. and reduce the sales opportunity for U.S. producers," Millstein said Thursday in a Bloomberg Television interview.
Guggenheim Securities, the firm's investment-banking unit, agreed to buy Millstein & Co. and named its founder co-chairman of the securities division, alongside M&A rainmaker Alan Schwartz, according to a statement Thursday. Guggenheim Chief Investment Officer Scott Minerd has previously said he expects a recession within two years, citing mounting corporate debt that would likely spur more defaults and a sharp decline in employment.
Read more about the "Titans of Junk"
Millstein, who was the restructuring chief at the U.S. Treasury Department during the 2008 financial crisis, agreed that a mounting wall of debt in corporate America could spur a downturn because higher interest rates constrain investments. He said the excessive use of leverage in the technology and industrial industries make them vulnerable if the economy worsens, calling the convergence of so many negatives a "perfect storm."
"This is a very scary scenario," he said. "There's going to be real financial distress."
Millstein, 63, said Thursday that he's been in talks with Schwartz, who ran Bear Stearns Cos. in its final days, since leaving the Treasury Department. Millstein previously worked at Lazard Ltd. and formed his own firm in 2011. He said Guggenheim has the opportunity to expand as larger rivals including Morgan Stanley and Goldman Sachs Group Inc. have been constrained by tighter regulations.
"It's really created an opening for the likes of Guggenheim," he said. "It frees the bankers to be more creative, more innovative."
— With assistance by Vonnie Quinn