politics
Trump Tweets 'Very Nice Note' He Says He Got From Kim Jong Un
By
Trump Tweets 'Very Nice Note' He Says He Got From Kim Jong Un
By
President hails 'great progress' in nuclear negotiations

North Korea failed to show up Thursday to meeting with U.S.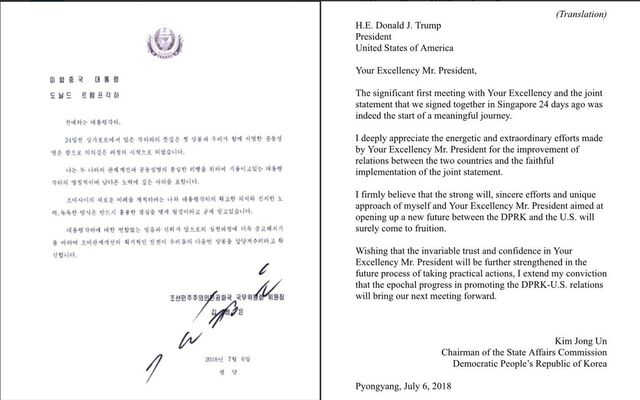 President Donald Trump praised Kim Jong Un in an apparent effort to boost nuclear talks, after a series of setbacks raised doubts about U.S. efforts to convince the North Korean leader to give up his arsenal.
The president said in a tweet Thursday -- exactly one month after his summit with Kim in Singapore -- that "great progress" was being made in negotiations. Trump attached copies of a July 6 letter from Kim lauding the U.S. leader's "energetic and extraordinary efforts" and expressing "invariable trust and confidence" in his ability to advance talks.
"A very nice note from Chairman Kim of North Korea," Trump said.
Kim's letter was dated a day before U.S. Secretary of State Mike Pompeo concluded a visit to Pyongyang that North Korea denounced as "cancerous" and "gangster-like." The dust-up exposed key disagreements that have continued to divide both sides, despite the imagery of Trump and Kim shaking hands on June 12 and signing a vague, 1-1/2 page agreement pledging to work toward "complete denuclearization."
"Trump is tacking toward viability," said Stephen Noerper, senior director of the New York-based Korea Society and an adjunct political science professor at Columbia University. "He wants a deal and is comfortable letting Secretary Pompeo usher this through. He is willing to overlook the diatribe that followed the secretary's Pyongyang visit."
Pompeo Caught Between Trump's Short Fuse and Kim's Intransigence
Earlier Thursday, U.S. officials presented the United Nations with data that North Korea had breached its annual cap for imports of refined petroleum products using so-called ship-to-ship transfers. The information, presented in a report seen by Bloomberg News, came with a U.S. call to other countries to halt to all exchanges of refined petroleum products with the country and to be more vigilant in preventing them.
The North Koreans also failed to show up for a planned meeting between on the militarized border between the two Koreas to discuss the recovery and return of Americans killed in the 1950-53 conflict that divided the peninsula. State Department spokeswoman Heather Nauert later said that the North Koreans had contacted the American side and offered to meet Sunday, adding the U.S. "will be ready."
South Korea's Yonhap News Agency reported Friday that the North Koreans had called UN Command via hotline that hasn't been used for five years and said they were unprepared to attend the talks. The country proposed holding a higher-level meeting than the working-level talks originally announced by Pompeo, Yonhap said, citing a diplomatic official it didn't identify.
The Department of Defense estimates that North Korea is holding about 200 sets of remains from some 5,300 American military personnel believed missing in the country. Their recovery has long been among the most emotionally charged issues between the two sides. Caskets that the U.S. shipped to the border last month haven't been filled, despite Kim's pledge to immediately repatriate identified remains.
North Korea Reminds Trump Its Nuclear Weapons Won't Come Cheap
While recovering the war dead would provide Trump a political victory similar to Kim's May release of three American detainees, it would do little to advance the goal of dismantling the regime's weapons program. The U.S. also risks giving the North Koreans leverage to continue diplomacy and drag out disarmament talks.
Both leaders have emphasized the importance of personal ties in overcoming deep-seated mistrust between the former foes, as demonstrated by the summit in Singapore last month. Similar appeals from Kim helped get that meeting back on track after a series of disputes in May.
"The significant first meeting with Your Excellency and the joint statement that we signed together in Singapore 24 days ago was indeed the start of a meaningful journey," Kim wrote in his latest letter to Trump. He also hinted at the possibility of another summit, saying that the "epochal progress in promoting the DPRK-U.S. relations will bring our next meeting forward," referring to North Korea's formal name.
Duyeon Kim, an adjunct senior fellow at the Center for a New American Security in Seoul, said it appeared that North Korea was trying to steer negotiations toward normalizing relations and bringing the unresolved war to a formal end.
"This is where things could get dicey because Washington and Pyongyang have different negotiating priorities and sequencing preferences when it comes to denuclearization, the normalization of relations and establishment of a peace regime," she said. "There is the real risk that nuclear talks could be held hostage to peace talks resulting in ending up with a nuclear-armed North Korea forever."
— With assistance by Larry Liebert, David Tweed, and Nick Wadhams