markets
P&G Says Tariffs Won't Hit Most of Its Goods Made in China, EU
By
P&G Says Tariffs Won't Hit Most of Its Goods Made in China, EU
By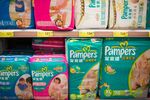 Procter & Gamble Co. says keeping production local will minimize the impact of tariff wars in some of its biggest markets.
As in its home market, P&G uses local plants for more than 90 percent of its production in China and the European Union, said spokesman Damon Jones. That helps insulate it from the retaliatory measures those governments are taking or considering.
"We're not expecting any significant finished product hits in those markets," Jones said in an interview Thursday.
U.S. companies are bracing for more retaliatory measures after the Trump administration proposed an additional $200 billion in tariffs on Chinese goods this week. Earlier this month, Canada issued a list of "countermeasures" affecting C$16.6 billion of products imported from the U.S.
Most of the goods in Canada, though imported, are exempt from the tariffs, Jones said, including major brands such as Tide, Pampers and Gillette. Canada accounts for almost 3 percent of P&G's global sales, with the U.S. contributing about 42 percent. Europe accounts for almost a quarter and China about 8 percent.
Canada's 10 percent tariff does apply to items like its Bounty paper towels and Febreze air fresheners. Still, while the majority of goods sold are unaffected, the taxes are "meaningful," spokeswoman Jennifer Corso said in an email.
"The China toilet paper and soap tariffs don't have a significant impact for P&G," she said. "We don't distribute any of our Charmin, Bounty or Puffs products in China and our personal cleansing products are made close to the consumers we serve."