markets
U.S. Consumer Prices Below Forecast on Utilities, Hotels
By
U.S. Consumer Prices Below Forecast on Utilities, Hotels
By
Record decline in lodging index drags down inflation measure

Annual price gains may keep Fed on track for gradual hikes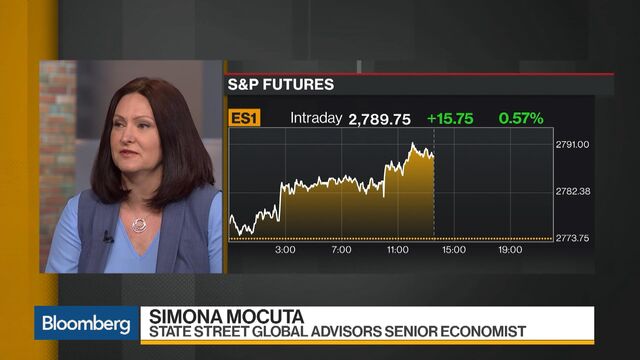 U.S. consumer prices rose less than expected in June amid falling utility prices and a record decline in hotel costs, even as the broader trend showed a pickup in annual inflation that may keep the Federal Reserve on track for gradual interest-rate hikes.
The consumer price index rose 0.1 percent from the prior month after a 0.2 percent gain in May, while the gauge excluding food and energy costs rose 0.2 percent, a Labor Department report showed Thursday. The Bloomberg survey median called for a 0.2 percent gain in both the main and core indexes.
The overall gauge rose 2.9 percent in the 12 months through June, the most since 2012, while the core gauge climbed 2.3 percent, the biggest gain since January 2017. Both matched economists' estimates.

The pickup in core inflation reflects continued upward pressure on services and some goods, with job gains and consumer spending steady and second-quarter economic growth projected to temporarily accelerate to 4 percent.
"When you look at the bigger components, there's modest pricing pressure overall," said Thomas Simons, an economist at Jefferies LLC. "There are some odd pockets here and there outside energy that were weak. These are all small contributors but when you have big declines in these categories, you have nicks and cuts that take down the overall index."
Companies may be looking for ways to pass along higher production costs to customers as fuel and transportation prices rise and tariffs provide a boost. A trade war between the U.S. and China, the world's two largest economies, stands to ratchet up that pressure. The Trump administration this week detailed planned levies on $200 billion of Chinese imports, on top of tariffs in effect or soon to be implemented on $50 billion of goods.
"Anecdotally, there is more pricing pressure still to come," Simons said. "The price pressures on shipping and trucking haven't shown up here yet, and over time we're going to continue to see that filter through."
The CPI report showed hotel and motel rates fell 4.1 percent in June from the previous month, the biggest decline on record and dragging down the broader index by 0.037 percentage point. Other gauges of housing costs continued steady gains, with rent of primary residence and owners-equivalent rent both rising 0.3 percent.


Additional categories that helped lower the gain in the CPI included apparel, with a 0.9 percent decline, and other household equipment and furnishings, which dropped 1.7 percent.
A separate Labor Department report on Thursday showed average hourly earnings, adjusted for inflation, were unchanged on an annual basis for a second month. Wages, which feed into inflation pressures, remain weaker than economists had expected at this point in a tight job market. They're also rising more slowly than in previous expansions.
The Fed's preferred gauge of inflation -- a separate consumption-based figure from the Commerce Department -- came in above the central bank's 2 percent goal in May, and the figure tends to run slightly below the Labor Department's CPI. Fed officials see core inflation as a more reliable gauge of underlying price pressures, especially with energy costs currently giving a boost to the broader CPI.
Several Fed officials have indicated in remarks that a modest overshoot the inflation goal wouldn't necessarily mean a more aggressive pace of interest-rate hikes, because for years price gains came in below expectations.
While fuel prices have provided a boost to overall inflation in recent months and thus pinched Americans' wallets, the core CPI -- seen by officials as a better gauge of underlying inflation trends -- has undergone only a modest acceleration.
Energy Measures
Energy costs fell 0.3 percent in June amid declines in the costs of electricity and natural gas. Seasonally adjusted gasoline prices rose 0.5 percent in June from the previous month.
Other data showed prices of new automobiles increased 0.4 percent and used cars and trucks were up 0.7 percent.
Commerce Department figures released June 29 showed the Fed's separate preferred gauge of inflation surpassed policy makers' 2 percent target in May after two months of meeting that target. The core PCE index was up 2 percent from a year earlier for the first time since 2012.
Expenses for medical care rose 0.4 percent from the prior month. These readings often vary from results for this category within the Fed's preferred measure of inflation due to different methodologies.
— With assistance by Kristy Scheuble, and Vince Golle
(
Updates with analyst comment, more details on report.
)