markets
U.S. Price Data Take Wind Out of Inflation Bond Market's Sails
By and
U.S. Price Data Take Wind Out of Inflation Bond Market's Sails
By and
Breakevens fall despite unsurprising Consumer Price Index

Move coincides with growing doubts about Fed rate hike path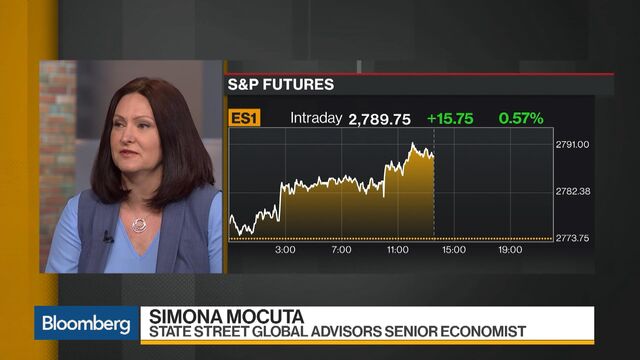 Bond traders in the markets for U.S. inflation protection appear to have seen something deflating in the latest price data.
Thursday's U.S. Consumer Price Index report looked harmless enough -- the readings for both headline and core inflation for the 12 months through June were bang on target at 2.9 percent and 2.3 percent, respectively. Nevertheless, the cost of inflation protection dropped notably in the wake of the report. Premiums fell across the breakeven curve, shaving almost 8 basis points off the one-year rate.
Breakevens typically move in line with the carry implied by inflation data. Traders will adjust their bids according to the difference between the data that underpin inflation-linked securities and market pricing. But in Thursday's case, the drop across the curve was roughly double the implied carry. The move retraced a rising trend in breakevens, and could signal an about-face in the market's outlook for inflation.
On its own, Thursday's CPI report doesn't seem much of a game-changer for the inflation outlook. The biggest surprise was the low reading on hotel prices and apparel, though it shouldn't have come as a great shock. Apparel has been weak for some time, and Societe Generale economist Omair Sharif said ahead of the report that the upswing in the lodging away from home component over the past three months was due for a correction.
But the ho-hum CPI report may have provided just enough excuse for traders to reposition their bets amid rising uncertainty about the inflation outlook. The case for higher inflation cites above-trend U.S. growth, the fiscal boost from tax reform and the prospect of even more aggressive tariffs on Chinese imports. Dissenters point to anemic wage inflation, the potential hit to growth from a trade war and the risk that the Fed may not apply the brakes on rate hikes quickly enough to spare the economy.
Doubts about the Fed's trajectory are already starting to dull the market's expectations for tightening. Prices of eurodollar contracts suggest that traders expect the central bank's rate hikes will end in 2019, and that the Fed will be unable to deliver the two increases it currently projects for 2020.