economics
Wall Street Economists Run the Numbers on Trump's Trade Salvo
By and
Wall Street Economists Run the Numbers on Trump's Trade Salvo
By and
Morgan Stanley sees 0.3 percentage-point drag on Chinese GDP

China has fiscal room to mitigate tariffs' impact, HSBC says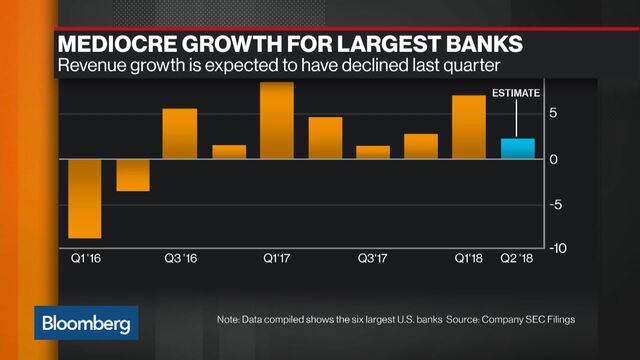 Wall Street banks said President Donald Trump's latest trade salvos in the battle between the U.S. and China will hit growth in the world's largest economies.
Last week saw the U.S. implement initial tariffs on $34 billion of imports from China, with the latter nation retaliating. Trump's also said he could expand the hit-list to $250 billion, while there's also a a threat on cars made in the European Union.
All of that has led to warnings from central bankers around the world as well as institutions including the IMF. Economists have also been running the numbers and here's a summary of their takes:
Morgan Stanley
If the U.S. goes ahead with tariffs on $250 billion, the hit to U.S. growth would be around 0.3 to 0.4 percentage point and for China it could mean a drag of 0.3 percentage point, according to Morgan Stanley. There's also the risk of an indirect hit to China arising from supply chain complexities which could subtract another 0.3 percentage point from growth.
"The potential imposition of further tariffs on imports from China reaffirms our view that trade tensions will likely linger for longer," Morgan Stanley economists led by Chetan Ahya wrote in a note. "While we still see negotiations as the endgame, getting there will take longer, leading to increased risks to business confidence and capex."
Deutsche Bank
It described Trump's latest threat as a "significant escalation" and if it was fully implemented, likely to mean a hit to China's real economy of 0.3 percent of GDP, most likely in 2019. For now, it's maintaining its growth forecast of 6.6 percent in 2018 and 6.3 percent next year.
"The impact will likely start to show up in China's exports in Q4, but we expect the bulk of the impact to take place in 2019, given the consultation process," economists led by Zhiwei Zhang wrote in a note.
What Our Economists Say:
"To be sure, there will be winners and losers at a microeconomic level, but the actions to date are hardly sufficient to sway a $17 trillion economy on the verge of the fastest annual growth of the current economic cycle."

--Carl Riccadonna and Tim Mahedy, Bloomberg Economics. Read U.S. INSIGHT
J.P Morgan
Economists at JPM reckon China's economy could take a hit sooner than expected, though it remains manageable: "Should the additional tariff take effect, it would increase tariffs on Chinese imports on average by 6.5 percentage points, which would reduce China's exports to the U.S. by 8.6 percent and drag on GDP growth by 0.2 percent via the trade channel."
They also see potential indirect effects through the labor market, consumption or weaker business confidence.
Economists led by Haibin Zhu wrote in a note that they believe both sides are still willing to negotiate, but that it will be difficult to contain spillover effects if the dispute worsens. That would risk a "much bigger disruption to global production and trade activity, affecting investment incentives and dragging on global economic growth."
The analysis from private economists comes as the warnings from public bodies continue to pile up. On Thursday, the European Commission repeated its concerns as it lowered its 2018 growth forecasts for both the euro area and the 28-nation EU.
There were also cautionary words from China, where the Commerce Ministry said the tensions were "dragging the global economy into a trap of uncertainty" and could even lead to recession, according to spokesman Gao Feng.
Yet he country has the fiscal resources to boost domestic demand and mitigate the impact of trade curbs, according to HSBC chief China economist Qu Hongbin, who estimates the combined impact from the announced tariffs could shave 0.4 percentage points off the country's growth. Given a better-than-expected fiscal position, the government has 2.8 trillion yuan to spend if needed.
"This leaves ample room for meaningful tax cuts tailored to accelerate technology-centric business investment and support affected exporting industries," he said. "Corporates' non-tax fee burden can also be reduced."
— With assistance by Jeff Black