politics
What the U.K. Wants: A Guide to Theresa May's Brexit White Paper
By
What the U.K. Wants: A Guide to Theresa May's Brexit White Paper
By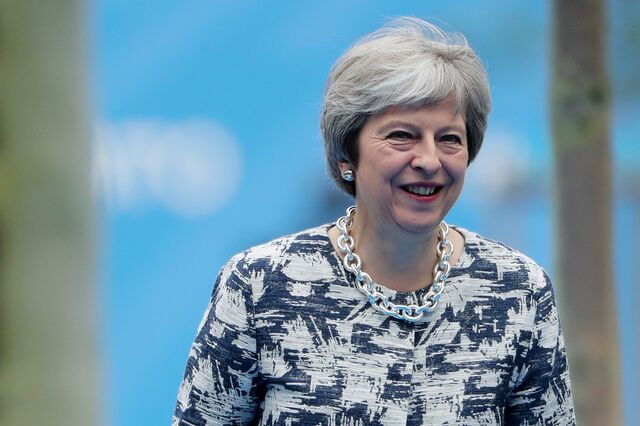 After months of dither and delay, Prime Minister Theresa May finally spelled out in detail the U.K's vision for its post-Brexit partnership with the European Union.
The U.K. says the new relationship "could take the form of an Association Agreement" with the EU. That means stronger ties than a traditional free-trade arrangement, such as the EU's with Canada, and similar terms to the bloc's relationship with Ukraine. But the EU has previously ruled this out, saying it's not on offer because of the U.K.'s red lines.
Central to the blueprint is a proposal for a new U.K.-EU "free trade area," with interlinked customs regimes and identical regulations for industrial goods and agri-food. Britain will have more freedom to diverge on rules for the services that make up four-fifths of its economy. Here are some of the key measures outlined in Thursday's position document, known as a White Paper:
Trade for Goods and Food
A U.K.-EU free trade area that establishes a common rule book for industrial goods and agricultural products
No tariffs, quotas or routine requirements for rules of origin on U.K.-EU trade
Britain would commit in a treaty to ongoing harmonization with EU rules on those products -- a key to keeping the Irish border open and free-flowing because checks on food and goods standards won't be needed at that frontier
The document doesn't say anything new on how to resolve the Irish border question, which has held up progress in the negotiations. May has promised to agree to a plan for a "backstop" guarantee arrangement to avoid the need for customs checks at the border -- though she says her proposals mean a backstop won't be needed
The U.K. would collect tariffs on behalf of the bloc. In a sign of the imbalance in the relationship, May isn't proposing the EU collect tariffs on behalf of the U.K.
Financial Services
The paper ends calls for mutual recognition of each other's regulations, instead opting for looser rules called "equivalence" that are already available to third-party countries
May is seeking an enhanced version of those rules and proposes that some processes "would be bilaterally agreed and treaty-based," with "a structured consultative process of dialogue" between Britain and the EU helping to maintain regulatory equivalence
Britain wants to expand the range of banking services covered by equivalence, and have more input on the future shape of EU regulations
Under May's plan, both sides would agree not to pursue divergent regulatory policies in relation to financial services and consult on each others' proposals at an early stage. She also calls for clear timelines and notice periods appropriate to the scale of the change, should either party want to withdraw equivalence
Role of European Judges
The White paper repeats May's oft-said line that the role of the European Court of Justice will end in Britain after Brexit -- one of her key red lines
A "joint committee" would help resolve disputes, as would binding independent arbitration
In a move that could anger Brexiteers, if there's a dispute over the interpretation of EU rules that the U.K. has agreed to adhere to, the ECJ could have a say in the final outcome. Nevertheless the joint reference procedure would be governed by "the principle that the court of one party cannot resolve disputes between the two"
Where the U.K. participates in an EU agency, it will accept the remit of the ECJ
Security
The U.K. threatens to withdraw its participation in Europol, the cross-border crime fighting agency, unless it is granted direct access to its databases and messaging systems on a par with its current status
It says in the year to December 2017, the U.K. sent and received 47,000 messages through Europol channels and has no wish to be treated as a "third country" with limited involvement. Britain was the second highest contributor to the agency for analysis of serious organized crime and the second highest contributor of counter-terrorism intelligence
Britain also wants continued sharing of cyber-security intelligence
Immigration and Mobility
The document says Britain will continue to be "open and tolerant," while ending the free movement of people. It stops short of saying EU citizens will be prioritized in any future immigration system
There are plans to ensure students can still study in each other's nations, companies can make cross-border transfers of employees, and tourists and short-term business visitors won't need visas
Britain will also seek to ensure U.K. and EU citizens can still use each other's health services when abroad, and foreign residents can still access their pension entitlements. Irish citizens will enjoy "special status" distinct from that of other EU nationals
EU Agencies
The U.K. wants to keep participating in EU agencies covering chemicals, aviation and medicines
Close cooperation with the European Maritime Safety Agency
New arrangements for a closer association with the Euratom nuclear regulator than any other non-EU country
Other
May proposes a "broad" system of mutual recognition of professional qualifications so that doctors, lawyers and other professionals from the U.K. and EU can operate in each other's countries
Britain wants to stay involved in the Galileo navigation satellite program, in particular its Public Regulated Service -- the encrypted navigation used for government and defense purposes, from which the EU wants to exclude Britain. The U.K. says Galileo should be a "core component" of future security cooperation
Arrangements to ensure the free-flow of personal data across borders and cooperation on digital trade and e-commerce
A pledge to maintain a common rulebook with the EU on state aid, enforced in Britain by the Competition and Markets Authority
Continued reciprocal access for airlines
The U.K. is also exploring whether to leave the EU's internal energy market, while preserving access to interconnectors with the continent
— With assistance by Kitty Donaldson, Tim Ross, Ian Wishart, Rachel Morison, Nate Lanxon, Gavin Finch, and Silla Brush