quicktake
Latvia's Corruption Scandal Is Getting Even Weirder
By and
Latvia's Corruption Scandal Is Getting Even Weirder
By and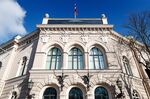 Its central bank chief has been charged with bribery. A lawyer liquidating the bank that was accused of bribing him was killed in a hail of machine-gun fire. And one of the bank's biggest lenders was shut down after U.S. allegations of money laundering and violations of sanctions on North Korea. What's going on in Latvia? The Baltic nation of 2 million people, once an unwilling part of the Soviet Union, is no stranger to financial scandal. After episodes of drama befitting a new Netflix series, the country is locked in a standoff with the European Central Bank that could go on for quite a while.
1. What's the central bank governor accused of?

Ilmars Rimsevics, who's been in charge of Latvia's central bank as governor or deputy since 1992, is accused of soliciting a bribe from Trasta Kommercbanka AS, a small lender that was shut in 2016 after being implicated in a $20 billion money-laundering scheme. Specifically, he's accused of receiving 250,000 euros ($294,000) five years ago and a paid fishing trip to Russia's far east in 2010 in exchange for helping Trasta with its regulator problems. Prosecutors allege he received the bribe in payments between 2012 and 2013. However, he denies all allegations and refuses to resign, despite being urged to do so by the country's political leaders. Since EU law states that the heads of central banks can be removed only if found guilty of "serious misconduct," this standoff might last until his second term runs out at the end of 2019.

2. Who was assassinated?
Martins Bunkus, a Latvian lawyer who'd been working on Trasta's insolvency, was machine-gunned to death while driving in Riga, Latvia's capital, on May 30. A police official said it looked to be "a carefully planned murder" that was "connected with the victim's professional work."
3. What does this all mean?

That's still a mystery. Among the questions: What prompted Trasta shareholders to give statements to law enforcement in February, triggering a raid of Rimsevics's home and office and a 48-hour detention that included questioning. Prosecutors say they have audio evidence from 2013 to support accusations of wrongdoing but can't explain why nothing was done at the time about it. The magazine Ir reported the audio was recorded in a sauna on the outskirts of the capital. Rimsevics wasn't the target of the probe. Prosecutors will weigh the evidence on whether to send his case to trial and could make a decision by year-end. Trials in Latvia usually take years.
4. How is the ECB involved?
Latvia is one of the smallest countries that use the common European currency, the euro, and Rimsevics is a member of the ECB's Governing Council, which sets interest rates. He can't leave the country to attend ECB meetings -- his deputy, Zoja Razmusa, has been attending as an observer -- and is banned from his old offices at Latvia's central bank. The ECB and Rimsevics have filed separate cases at the European Union's highest court challenging the restrictions placed on him. The Luxembourg-based European Court of Justice has fast-tracked the two cases, so a decision can be expected in six to eight months. Separately, the court is set to decide soon on an interim request by the ECB to soften the restrictions.
5. What does Rimsevics say?
He's rejected allegations that he asked for and received a bribe but said he regrets not reporting the "hint" of a bribe in the past. He says he submitted evidence proving he paid for the trips to Russia's far east. From the outset, Rimsevics has blamed his legal woes on a conspiracy by a group of banks including ABLV Bank AS, the country's No. 3 lender, which was hit with U.S. money-laundering claims on Feb. 13, shortly before he was detained. Some of ABLV's clients pulled their money after the U.S. accused it of being a magnet for organized crime and corruption and evaded sanctions related to North Korea's nuclear program. The ECB declared ABLV failing or likely to fail. The Latvian authorities have repeatedly said Rimsevics's case isn't connected to ABLV's. ABLV denies Rimsevics's claims and blames its situation on him.
6. Why are Latvians accustomed to financial scandal?
Latvian banks were accused of handling some of the $1 billion stolen in 2015 from Moldova's financial system, helping shift as much as $20 billion in illicit cash from Russia between 2010 and 2014 and facilitating bribes by a Scandinavian telecommunications company. In 2016, the same year Trasta was shut down after being implicated in money-laundering violations, Privatbank AS's Latvian unit was hit with a 2 million-euro ($2.2 million) fine for handling money from the Moldovan fraud. Last year, five Latvian banks agreed to fines for failing to gather sufficient information on transactions and beneficiaries in deals linked to North Korea.
7. What explains Latvia's track record?

Latvian banks have long served as magnets for cash, and their notoriety picked up after communism collapsed. An ex-Soviet country with a large Russian-speaking minority, Latvia regained independence in 1991 and joined the European Union in 2004. While this helped develop Latvia's banking industry, the country also drew criticism from groups such as the Organization for Economic Cooperation and Development, which cited concerns about money-laundering risks and lax oversight. The inflow of foreign cash accelerated in 2012 as Cyprus's economic woes prompted wealthy depositors from the former Soviet Union to seek an alternative offshore home for their money. Latvia reversed the trend in 2015 as the nation was trying to join the OECD, handing out record fines and shutting down lenders over money laundering. Foreign deposits fell by a quarter last year.
8. What's the impact on Latvia?

The repeated scandals prompted a complete overhaul of Latvia's banking model. The government has banned lenders from working with risky shell companies and regulators are helping reduce the amount of business activity with clients from the former Soviet Union. The share of non-resident deposits, which once eclipsed domestic holdings, has fallen to less than 30 percent from 40 percent at the end of 2017. The plan is to cut it to about a fifth, with those held by customers from the Commonwealth of Independent States -- an alliance of ex-Soviet nations -- plunging to 5 percent.
The Reference Shelf
— With assistance by Ott Ummelas, Nicholas Comfort, John Glover, and Radoslav Tomek
(
An earlier version of this story corrected the accusations against Rimsevics in first question.
)