politics
Australia's Government Has a Woman Problem, and It Just Got Worse
By
Australia's Government Has a Woman Problem, and It Just Got Worse
By
Liberals select man to fight for crucial Sydney electorate

Morrison wanted woman candidate amid bullying complaints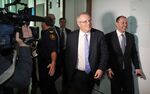 Prime Minister Scott Morrison's fractured Liberal Party has balked at turning to a woman to improve its fortunes, even as a lack of gender diversity and accusations that female lawmakers were bullied threatens to further undermine its standing with voters.
Aware of its growing image problem, Morrison wanted a female candidate to stand for parliament in the Sydney seat of Wentworth to replace Malcolm Turnbull, who quit politics after he was ousted as leader last month. But the party turned instead to Dave Sharma, Australia's former ambassador to Israel, to fight the special election on Oct. 20.
The selection late Thursday shows it won't be easy to change the mindset of the center-right party, where only about a fifth of its lawmakers are women compared with almost half for its main rival Labor. Its male-dominated culture was labeled "toxic" last month by one female lawmaker.
"Given recent attention on sexism inside the Liberal Party, the selection of a male candidate suggests that the party is even more resistant to genuine reform than previously thought," said Jill Sheppard, a political analyst at the Australian National University. "The core of conservative men within the Liberal Party will need to either be persuaded to embrace pro-equality reforms or be replaced by a new generation."
Huge Swing
Sharma faces a fight to win in the affluent electorate that includes Sydney harbor coastline and Bondi Beach. While Turnbull held the seat with a double-digit margin, political analysts expect a huge swing away from a government riven by infighting and policy failures. Losing the seat would erase Morrison's one-seat majority in the lower house and undermine his message to voters of being best placed to provide stable government.
The Liberals' failure to put in place gender quotas for parliament has taken a toll on equality in Australia, which prides itself on being among the first countries to give women the right to vote and stand as candidates. In global rankings for representation of women in parliament, Australia plummeted to 50th this year from 15th in 1999.
That criticism has grown in the wake of the leadership coup that saw home affairs minister and former policeman Peter Dutton, along with lawmakers who backed his socially conservative agenda, attempt to seize the leadership from Turnbull.

During a tumultuous week, Dutton's supporters allegedly tried to coerce and intimidate female colleagues into supporting their candidate. Dutton has denied the reports, and no woman lawmaker has publicly identified the alleged coercers.
'Appalling Behavior'
While Dutton's leadership ambitions were thwarted by a handful of votes in a secret party ballot, and Morrison emerged as the new prime minister, the wounds from the power play remain raw. Julie Bishop, who lost her position as deputy party leader in the tussle and subsequently resigned as foreign minister, has blasted behavior in parliament that wouldn't be "tolerated in any other workplaces across Australia." Another lawmaker, Julia Banks, said bullying had driven her to decide to quit parliament at the next election.
"In my political journey, a culture of appalling behavior has been widespread, pervasive and undermining like white ants," Banks told parliament Wednesday. "There are equal numbers meritorious Liberal woman out there in the real world as there are men. It's really simple if you only have a man running and you can't find a woman: Find one."
It's unwanted poor publicity for a government that trails Labor by a double-digit margin in opinion polls, and is on track to lose national elections due by May.

While the Liberals have a target of achieving an equal gender split of candidates by 2025, women's rights activists say they will likely fall well short of that goal because the party avoids quotas. Labor, meanwhile, began implementing its quota system to increase women's representation in 1994.
Rugby Jerseys
Morrison has rejected wholesale changes in how the party operates. An evangelical Christian serving one of the country's most socially conservative electorates, Morrison has exuded a masculine image since becoming leader, appearing at press conferences in rugby jerseys and baseball caps.
Bullying against Australia's women lawmakers isn't new. Labor's Julia Gillard, who served as the nation's first female prime minister from 2010 to 2013, faced a barrage of sexist and personal remarks, from inappropriate radio shock-jock comments to students throwing food at her. In October 2012, she used a speech in parliament to blast then opposition leader and future prime minister Tony Abbott as a misogynist.

Sexual harassment in Australia isn't limited to parliament, polls show. According to an Australian Human Rights Commission survey released Wednesday, 39 percent of women have experienced sexual harassment in the workplace in the past five years.
Andrea Carson, an incoming lecturer in political science at Melbourne's La Trobe University, says the poor behavior in parliament sets a bad precedent in a nation where one in six women have experienced abuse by a partner.
"Our parliamentarians are role models and if we have poor behavior at the top level, it doesn't send a strong message lower down," Carson said. "There is a relationship between bullying and gender inequality, and I see this time -- when senior Liberal women feel compelled to speak out about their experiences -- as a watershed moment."
(
An earlier version of this story was corrected to show the candidate's first name is Dave, not David.
)