politics
Trump Says He Feels 'No Pressure' to Make China Trade Deal
By , , and
Trump Says He Feels 'No Pressure' to Make China Trade Deal
By , , and
Twitter message likely to stoke China fears he isn't serious

U.S. bid for new talks had raised hopes for resolving feud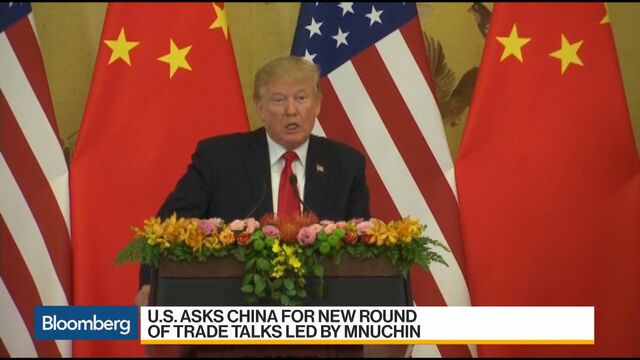 President Donald Trump swaggered ahead of a possible new round of tariffs talks with China, boasting he has the upper hand in the burgeoning trade war and feels "no pressure" to resolve the feud.
Trump's Twitter message on Thursday shows he is determined to enter any negotiation showing strength, but risks stoking Chinese fears that the U.S. president isn't yet serious about striking a deal. Chinese officials already have felt burned by U.S. backtracking in prior talks as the two countries' trade dispute deepened.
U.S. equities initially pulled back from earlier increases after Trump's tweet, though gains in the information technology and health care sectors pushed stocks higher. The U.S. dollar rose, while traders sold the Australian dollar because of that country's economic ties to China.
His comment tempered the market's cautious optimism over the U.S. government's proposal for another round of talks with Beijing. Disclosure on Wednesday that the U.S. sought to renew talks rallied U.S. stocks and emerging-market assets.
Cross Pressures
Chinese officials are sensitive to potential cross-pressures on the president ahead of November congressional elections. A tough stance on trade resonates with Trump's base of blue-collar workers in the industrial Great Lakes region, while fears of Chinese retaliation worry key Republican constituencies, including farm states.
Chinese officials haven't yet formally agreed to a U.S. overture for new talks. A failure to even begin on another round of negotiations would feed fears that the world's two biggest economies are destined for a long and bruising trade war.
Trump's tweet appeared to dispute a paragraph in a Wall Street Journal story on the looming talks. The piece said that Trump faces rising political pressure to settle the fight and end Chinese retaliation against U.S. exporters ahead of the November elections.
"The Wall Street Journal has it wrong, we are under no pressure to make a deal with China, they are under pressure to make a deal with us," Trump said in a Twitter post Thursday. "Our markets are surging, theirs are collapsing. We will soon be taking in Billions in Tariffs & making products at home. If we meet, we meet?"
China has received an invitation and is working on the details with the U.S., commerce ministry spokesman Gao Feng said at regular briefing in Beijing Thursday, before Trump's tweet. That invite was recently extended by senior officials led by Treasury Secretary Steven Mnuchin, according to three people familiar with the matter, who spoke on condition of anonymity.
The White House has sought to pressure Beijing to reduce its trade surplus with America and protect intellectual property rights of U.S. companies, which it says are abused in China. The Trump administration has already imposed duties on $50 billion of Chinese exports since July, which spurred immediate in-kind retaliation from Beijing.
"We are in communication right now and you could say that communication has picked up a notch," Larry Kudlow, director of Trump's National Economic Council, said on Wednesday, also confirming the report. He called it a "positive thing."
$200 Billion
If the U.S. presses ahead with planned additional tariffs on $200 billion in Chinese goods and more, it will hurt the interests of China, the U.S. and the world, Gao told reporters in Beijing. China urged the U.S. to observe World Trade Organization rules and correct the excessive use of trade remedy measures, he said.
There are still great differences between the two sides, but China will likely accept the invitation and probably send Vice Premier Liu He to lead the talks, according to Yao Shaohua, an economist at ABCI Securities Co. Ltd in Hong Kong. Liu led a previous round of discussions in May, reaching a deal with Mnuchin which was then abandoned by a Tweet from Trump.
China may have concerns that Trump will go back and forth again as the U.S. president did during previous negotiations in May, said Yao, but in the end it hopes for a breakthrough.
Trump hasn't yet pulled the trigger on tariffs on the additional $200 billion in Chinese goods.
'Short Notice'
A comment period for that round of tariffs expired last week without U.S. action. He said last week that he's lined up another $267 billion of Chinese products for duties "on short notice if I want to," which would cover virtually everything the country exports to the U.S., including consumer goods such as clothing and Apple smartphones.
China has said it would be forced to retaliate against all of the U.S.'s measures, fanning concerns that the trade war could dent the global economic outlook.
Efforts to end the dispute have fizzled so far. Officials from both countries have met four times for formal talks, most recently in August, when Treasury's undersecretary for international affairs, David Malpass, led discussions in Washington with Chinese Vice Minister Wang Shouwen.
— With assistance by Justin Sink, Yinan Zhao, and Xiaoqing Pi