Election Update
Governors' Races Are Looking Especially Good for Democrats in the Midterms
Republicans are defending 26 states to Democrats' nine.
By and
Governors' Races Are Looking Especially Good for Democrats in the Midterms
Republicans are defending 26 states to Democrats' nine.
By and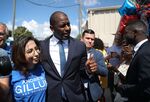 Democrats are defending far more Senate seats this year than Republicans. The House map holds more opportunities for Democratic pickups, but that task remains tricky owing to the remnants of GOP-controlled redistricting a decade ago. Among the nation's governors, however, Democrats have almost unbridled offensive opportunities.
A day after the final primary wrapped up in New York, a look at the map of key governor's races finds Democrats either favored (3) or even odds (8) in nearly a dozen Republican-held gubernatorial seats, according to the nonpartisan Cook Political Report. By contrast, Republicans are favored to pickup only one independent-held seat, in Alaska, and hold a toss-up's chance in just one Democratic-held state, Connecticut.
Overall, Republicans are defending 26 states to Democrats' nine. In GOP-held states, Democrats hold a slight edge in Illinois, where polls show Democrat J.B. Pritzker running well ahead of incumbent Bruce Rauner, as well as in Michigan and New Mexico where the seats are open. Other key Republican states -- like Florida, Wisconsin and Ohio -- are genuinely competitive with strong Democratic challengers.
And in other states, such as Kansas and Georgia, Republican primary voters eschewed establishment-aligned candidates to instead pick enthusiastic allies of President Trump. Those decisions may give Democrats a better shot at picking up seats.
Wins across the board for Democrats could reverberate outside their states, as governors elected this year will be key to redistricting in certain states where Republicans had previously used universal control to draw advantageous maps.
There is a silver lining, however, for the GOP. Three traditionally deep blue states -- Maryland, Massachusetts and Vermont -- have popular Republican governors who are heavily favored to win re-election.
Want more updates? Sign up for our daily newsletter on global politics and follow Bloomberg Politics on Twitter and Facebook.
Balance of Power
Watch to see how Friday morning's three bombshell reports reverberate across the midterms:
Senate
MO-SEN: There's a growing trend of Democrats tying their GOP challengers to an anti-Obamacare lawsuit, and that's the subject of Sen. Claire McCaskill's latest ad; spot features McCaskill talking about pre-existing conditions and her own fight against breast cancer.
MT-SEN: Democrats questioning whether GOP Senate candidate Matt Rosendale and NRA illegally coordinated, citing audio recording of Rosendale's comments earlier this year discussing conversations he'd had with a leader of the group's political wing about upcoming spending in the race; Rosendale spokesman says accusation is baseless: AP.
ND-SEN: Democratic Sen. Heidi Heitkamp launches ad criticizing GOP challenger Kevin Cramer for not opposing tariffs she says are damaging state's agricultural economy; six-figure ad buy: AP.
NJ-SEN: Communications Workers of America New Jersey endorsed Democrat Bob Menendez in his bid for re-election.
TX-SEN: Country star Willie Nelson is on the road again, this time for Beto O'Rourke.
Nelson plans to headline a Sept. 29 rally in Austin for Democratic Senate candidate O'Rourke, Washington Post reports

House
AR-02: VP Mike Pence to campaign for Rep. French Hill Sept. 21: Arkansas Democrat Gazette.
PA-08: NRCC releases new TV ad, "Time's Up," which hits Democrat Matt Cartwright on taxes, health care.
WI-01: Republican Bryan Steil leads Democrat Randy Bryce by 6 points in the race to replace outgoing Speaker Paul Ryan, according to a New York Times/Siena poll with an error margin of 4.7 ppts.
Bryce is an ironworker, union activist and Army veteran, Steil is a former Ryan staffer; Ryan announced in April he wouldn't seek re-election for the southeastern Wisconsin seat
NYT/Siena polls ongoing in CO-06, ME-02, KS-02, FL-26, NM-02; poll coming soon in TX-07.
Governors
Cook Political Report changes several governors race rankings:
Toward Democrats:

Michigan to Lean Democratic; was Toss Up
Wisconsin to Toss Up; was Lean Republican
Georgia to Toss Up; was Lean Republican
South Dakota to Likely Republican; was Solid Republican

Toward Republicans:

Alaska to Lean Republican; was Toss Up
Rhode Island to Lean Democratic; was Likely Democratic
FL-GOV: GOP's Ron DeSantis launches $4m ad buy; personal narrative spot; he's also got a Spanish version: Tampa Bay Times.
IL-GOV: Democratic candidate Pritzker leads incumbent Republican Gov. Rauner 44%-27%, with other candidates at 11% and 13% undecided or unknown, according to a new poll by the Illinois Broadcasters Association.
MI-GOV: Fraternal Order of Police, after endorsing Republican Rick Snyder in 2010 and 2014, backs Democrat Gretchen Whitmer over Republican Bill Schuette: AP.
Republican Bill Schuette tells AP he's an underdog in the race; adds he has no plans to distance himself from Trump
NY-GOV: Working Families Party said to reject entreaties to support incumbent Democratic Gov. Andrew Cuomo; may seek to keep Cynthia Nixon on ballot line: New York Post.
OH-GOV: President Obama headlined a rally in Cleveland for Richard Cordray, the former CFPB head running for Ohio governor as a Democrat; Obama used the opportunity to lament "broken" politics.
"What's at stake goes beyond partisan politics," he said, in rally where he also campaigned for other candidates including Sen. Sherrod Brown
WI-GOV: Americans for Prosperity, the flagship political group in the Koch network, plans to launch a three-week, $1.3m television and digital ad campaign on Saturday to try to boost the re-election prospects of Republican Gov. Scott Walker.
The investment follows an earlier $1.8m AFP advertising effort for Walker, who faces a strong challenge from Democrat Tony Evers in a state Trump only very narrowly won in 2016
State Races and Ballot Initiatives
Recapping New York:
Gov. Cuomo glided to win over actress/activist Nixon; 2-1 margin
Lt. Gov. Kathy Hochul had much tighter race, though held on
Letitia "Tish" James tops Zephyr Teachout, Rep. Sean Patrick Maloney in race for state attorney general
Several Democratic state senators topped by primary challengers running to their left: New York Times
Also of Note
Bill Daley, President Obama's former chief of staff, plans to run for mayor of Chicago; announcement planned for Monday: WLS-TV.
If the name sounds familiar in Chicago, it should; he's brother of longtime Mayor Richard M. Daley and son of another longtime mayor Richard J. Daley
— With assistance by Greg Sullivan, Elise Young, and John McCormick