business
Florence's Unique Path From Africa to U.S. Tied to Global Warming
By
Florence's Unique Path From Africa to U.S. Tied to Global Warming
By
Florence rode high-pressure ridge resulting from warming seas

A '1 or 2 percent kind of thing,' stunning the forecasters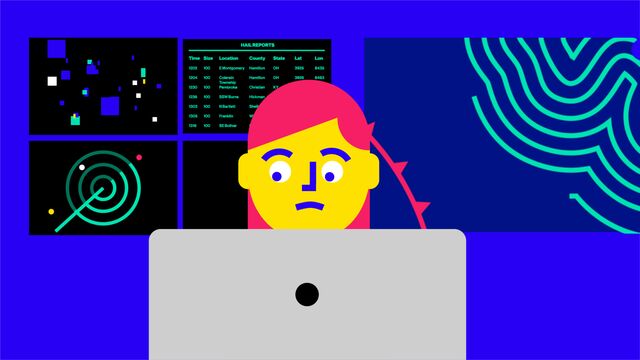 Born off the coast of Africa, Hurricane Florence followed an extraordinarily straight path to the U.S. East Coast that beat historic odds, stunning forecasters and spurring new concerns on the damaging effects of global warming.
Almost all storms that originate where Florence did turn northward in the mid-Atlantic. But a stubborn, unmoving high-pressure ridge that's increasingly becoming the signature for a warming planet held it on a direct path to the Carolinas, scientists said. It arrived Thursday, when the outer bands of the storm first hit North Carolina, carrying stinging winds and lashing rains that are forecast to last for days.
"It is extremely rare to get a storm crossing at the location it did,'' said Jeff Masters, co-founder of the Weather Underground in Ann Arbor, Michigan. "It is a 1 or 2 percent kind of thing.''
As the amount of Arctic ice and snow has fallen, seas in the northern hemisphere have warmed, and the air above has reacted, said Jennifer Francis, a climate researcher at Rutgers University in New Jersey. The probable result, according to Francis: High pressure ridges and low pressure troughs that tend to hold in place throughout the summer.

This summer, the ridge was "so persistent," that it didn't allow Florence to veer from its westward march, Francis said by telephone. "A similar thing happened to Sandy," the hurricane that engulfed the East Coast in 2012, she added. "It ran into a blocking high and it shot west instead.''
And Florence and Sandy aren't the only climate events affected by this phenomena, she said. For the past few years, summer weather patterns across the northern hemisphere have been cemented in place for the season, leading to record heat waves in places such as wildfire-ravaged Scandinavia, and to the flooding rains that plagued the mid-Atlantic and Washington suburbs.
While that may explain how the hurricane got to the U.S., it doesn't say why it got be such a monster. Kevin Reed, a professor of Marine and Atmospheric Science at Stony Brook University in New York, believes he may have an answer.
SOURCE: NOAA



Using tools designed to search for climate-change signals in past storms, Reed's educated guess is that Florence is some 80 miles (130 kilometers) wider than it would be in a world without modern levels of greenhouse gases. Additionally, it could drop 50 percent more rain in the places where the precipitation is at its worst, he said. Forecaster have said the storm could drench the region with as much as 40 inches of rain.
Tens of thousands of structures are expected to be flooded by the storm surge alone, North Carolina Governor Roy Cooper said at a press conference Thursday. "Our greatest concern about this storm remains the same -- storm surge and massive flooding," he said.
The probable culprit, according to Reed and his colleague Michael Wehner, a staff scientist, at the Lawrence Berkeley National Laboratory in California: Extra water in a warmer atmosphere that's turned into rain when a storm rolls through, in this case a very big storm.
Storms Impacted
"After the storm we will hunker down, and we will be able to see how right we were and should be able to say more in a week or two,'' Reed said. "We live in a world where climate change is happening and all these storms are being impacted.''
In the meantime, scientists are closely monitoring Florence's next steps. Some fear that once on shore, it could be blocked by yet another high pressure ridge, this one sitting of the nation's midsection, causing it to wring itself out like a wet sponge across North Carolina and South Carolina as it slowly creeps west.
As the world warms there may not be larger number of hurricanes, typhoons and cyclones, but the strongest ones will be even more intense, said Colin Zarzycki, a project scientist at the National Center for Atmospheric Research in Boulder, who works with Reed.
"We are loading the dice to more of these high impactful weather events going forward,'' Zarycki said. In the future "the type of events we might see once in 50 years we might see once in 10 years.''
In Beaufort, North Carolina, about 95 miles northeast of where Florence hit landfall, the storm surge broke a 64-year-old record, hitting 3.74 feet above the high tide mark, Masters said. Since Hurricane Hazel hit in 1954, ocean levels have risen 8 inches in the area because of global warming, according to Masters.
"We would not have broken the record if it hadn't been for that extra 8 inches,'' he said.
— With assistance by Jim Efstathiou Jr
(
Adds information on storm surge in last two paragraphs.
)