politics
Fannie Regulator Refused to Cooperate With Harassment Probe, Report Says
By
Fannie Regulator Refused to Cooperate With Harassment Probe, Report Says
By
FHFA director declined interview by independent investigator

Watt cited status as presidential appointee, report shows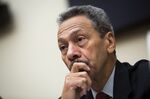 Fannie Mae and Freddie Mac's regulator, Mel Watt, refused to cooperate with an independent review of allegations that he harassed a female subordinate, citing his status as a presidential appointee, excerpts from a report on the investigator's findings show.
Watt, the director of the Federal Housing Finance Agency, declined to be interviewed or provide a response to the misconduct allegations when contacted by the investigator, according to the report, portions of which were obtained by Bloomberg. Watt, 73, said his lawyer advised him not to participate because the process for handling claims is designed to deal with allegations made against rank-and-file employees, not the heads of agencies.
Read More: Fannie's Regulator Is Defiant as #MeToo Accuser Goes Public
Watt disclosed his decision in a July 23 email to Dan Pierce, the investigator retained by the U.S. Postal Service. In the email, Watt said the FHFA's sexual-harassment policies make clear that management is responsible for determining whether to take action against an employee accused of wrongdoing. But since Watt doesn't have a supervisor, he said no one could take action against him.
"It would be inappropriate to submit to an interview," Watt wrote, according to the report. He has denied wrongdoing and has remained in his post since the harassment allegations first came to light in late July.
Watt declined to comment through a FHFA spokeswoman, and the agency also declined to comment.
Watt, who was a Democratic member of Congress before former President Barack Obama picked him to lead the FHFA, is rare among senior government officials in being accused of harassment. The #MeToo movement has swept through media firms and companies in other industries, forcing corporations to address misconduct by removing top executives.
Fannie and Freddie Died But Were Reborn, Profitably: QuickTake
In the portion of Pierce's report obtained by Bloomberg, he draws no conclusions on whether Watt mistreated the subordinate, nor does Pierce make any specific recommendations on actions the FHFA should take. The report, which was given to the housing regulator last month, includes extensive notes on interviews Pierce conducted of FHFA employees, including Simone Grimes, the senior adviser who has accused Watt of harassing her.
In his email to Pierce, Watt wrote that he is "fully" cooperating with a separate investigation into Grimes's claims being done by the FHFA inspector general's office. Watt said he has "serious concerns" that Pierce can conduct a parallel probe without jeopardizing his legal rights and without "substantial duplication of expense and effort."
The Postal Service was asked to do a review because its independent from the FHFA. It retained Pierce earlier this year after Grimes filed a formal complaint alleging that Watt had made repeated unwanted sexual advances and that he had withheld a promotion when she refused him. Last month, she filed a lawsuit against the FHFA seeking $1 million in back wages, lost benefits and damages.
Pierce's report includes previously unreported allegations from Grimes, including that Watt asked to see photographs of her in a "bikini-type swimsuit." Grimes also provided Pierce with documents and audio recordings of what she says are several interactions she had with Watt, including a conversation in which she claims he invited her to his vacation home in North Carolina during a walk in Washington's Rock Creek Park.
The FHFA spokeswoman didn't immediately respond to a request for comment on the previously unreported allegations by Grimes. Watt has declined to comment on other tapes and transcripts of alleged interactions with her.
Watt's term as FHFA director ends in January, with a successor picked by the Trump administration. The agency oversees Fannie and Freddie, the nation's two mortgage-finance giants, and sets policies with sweeping implications for the roughly $5 trillion market for home loans. The companies have been under government control since the 2008 financial crisis.