cybersecurity
This Russian-Born Lobbyist Was at Trump Tower. He Says He's No Spy. Now He's Suing
By and
This Russian-Born Lobbyist Was at Trump Tower. He Says He's No Spy. Now He's Suing
By and
Washington lobbyist Akhmetshin accuses Browder of defamation

They tangled over Magnitsky Act, U.S. money-laundering case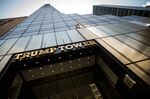 The Russian-born lobbyist Rinat Akhmetshin admits he was at the infamous Trump Tower meeting. But he's taken umbrage that a prominent opponent of the Kremlin has called him a spy, and now he's issued a challenge: Prove it.
Akhmetshin has filed a lawsuit in Washington federal court claiming he was defamed by fund manager Bill Browder, an arch critic of Vladimir Putin's. Browder described Akhmetshin as a "spy" after his presence at the Trump Tower meeting became known.

Akhmetshin said in his lawsuit that he's not an "intelligence asset or spy" now and never has been, and he's essentially daring Browder to back up his words. Unless Browder gets the case dismissed on other grounds, he may have to show he had a sound basis for saying Akhmetshin was on the Russian or Soviet government's payroll.
The case poses a risk to both sides. Browder will likely use the evidence-discovery process to seek information damaging to Akhmetshin, but his own credibility could suffer if he can't find any. For Akhmetshin, the suit could salvage a reputation damaged by withering media scrutiny over the past year -- or harm it further.
"Accusing someone of being a spy for a foreign country, especially a Washington lobbyist, if false, is defamation," said Louis Ciavarra, the head of litigation at Bowditch & Dewey LLP in Boston, who isn't involved in the case.
Yet Browder need only show his claim was likely true and "doesn't need a document with Putin appointing this guy to the GRU," Ciavarra added, referring to Russia's military intelligence agency.
Soviet Army
Akhmetshin, 50, declined to comment. In testimony to the U.S. Senate, he said he once served as a sergeant in a unit supporting the Soviet army's counterintelligence department but never worked in an intelligence or counterintelligence capacity for the Soviet or Russian government.
Browder, 54, who lives in London, said he's yet to be served with the complaint. He noted that lawsuits by his adversaries are a familiar tactic. His firm, Hermitage Capital Management, was once the largest foreign owner of Russian stocks before being thrown out of Russia in 2005 for exposing what it said was fraud by Russian officials and organized crime. After his accountant, Sergei Magnitsky, died in a Russian prison in 2009, Browder helped engineer the U.S. sanctions known as the Magnitsky Act.
"This looks to me like another chapter in the long series of harassment by the Russian government and people close to the Russian government," he said in a phone call, declining further comment.
Akhmetshin's testimony before the Senate Judiciary Committee
By any standard, Akhmetshin has an unusual pedigree. A Tatar by birth who served in the Soviet army during the Afghan war, he later gained U.S. citizenship, earned a Ph.D in bio-organic chemistry, and launched a lobbying and public relations shop in Washington with a focus on Eurasian affairs. He's represented wealthy Russians and companies tied to them, and he said his firm negotiated the lease of an American air force base in Kyrgyzstan to supply U.S. troops in Afghanistan. An adversary of one of his clients once accused him of a hacking attack, an allegation he called "laughable."
Akhmetshin and Browder have tangled before. They were on opposite sides of lobbying efforts surrounding the Magnitsky Act, and Browder urged the U.S. to bring a money-laundering case seeking to seize real estate belonging to a firm owned by a Russian businessman. Akhmetshin, who calls Browder the "driving force" behind that suit, was hired by the lawyers representing the firm.
But those clashes took place largely behind the scenes. On July 14, 2017, when press reports placed Akhmetshin inside the Trump Tower meeting, their personal battle went public.
Trump Tower Meeting
The June 9, 2016, meeting included top campaign aides to Donald Trump, including son-in-law Jared Kushner, Donald Trump Jr. and campaign chairman Paul Manafort. Trump Jr. had been told he'd be meeting with a person who could offer damaging information about Democratic presidential candidate Hillary Clinton. That person was Natalia Veselnitskaya, a Russian lawyer who was also defending the U.S.'s asset-seizure case and had ties to Russia's chief prosecutor.
The president and Veselnitskaya later claimed the meeting focused on restarting American adoptions of Russian children, which stalled as Russia retaliated for the Magnitsky Act. Special Counsel Robert Mueller is investigating it as part of his probe into Russian meddling in the 2016 election.
What was Akhmetshin doing there -- dressed, according to his Senate testimony, in jeans and a T-shirt, no less? He said in testimony to the U.S. Senate that he was in Manhattan that day on personal business when Veselnitskaya, who was monitoring a court hearing in the U.S. money-laundering case, called to ask him to join her at Trump Tower.
Immediately after last year's disclosure of Akhmetshin's presence, Browder offered a more sinister spin, taking to Twitter and calling him a "Russian GRU officer" and "intelligence asset." On TV, he said Akhmetshin was "some kind of shady former Soviet spy, current spy operator in Washington."
$1 Million Claim
The $1 million lawsuit pits a Russian-born American citizen (Akhmetshin) against a U.S.-born expat (Browder) who has renounced his citizenship. Akhmetshin claims Browder's false allegation that he was a spy damaged his reputation, destroyed his business and even led to death threats. While news reports described Akhmetshin as an ex-counterintelligence officer in the immediate aftermath of last year's disclosure, a point Browder may raise in his defense, the lawsuit focuses on the specific claim of spying, a crime.
Akhmetshin said in his complaint he lost a potential job as a consultant on a multimillion-dollar litigation because his "name was too 'radioactive.'"
"No one in Washington seeking assistance on Capitol Hill will hire a lobbyist suspected of being a Russian spy," he said.