politics
North Korea Can Speak With Seoul 24 Hours a Day at New Office
By
North Korea Can Speak With Seoul 24 Hours a Day at New Office
By
Office allows 24-hour communication for first time since war

Seoul says channel could help bring about denuclearization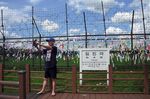 South Korea opened a liaison office at an industrial park it sponsors in the North Korean city of Gaeseong on Friday, allowing rival officials to communicate around-the-clock for the first time since the start of the Korean War.
Seoul's Unification Ministry said more than 50 South Koreans crossed the border to Gaeseong to attend the opening ceremony. It said it hoped the new communication channel would ease tensions between the two countries, aiming toward bringing about denuclearization of North Korea.
"A new chapter in history is starting here today," the ministry's chief Cho Myoung-gyon told North and South Korean officials and other guests at the ceremony. "It is a symbol of peace made jointly by South and North Korea."
The two Koreas agreed to open the office during a historic April summit between South Korean President Moon Jae-in and North Korean leader Kim Jong Un, who are scheduled to meet for a third time next week in Pyongyang. The office is among the initiatives supported by Moon -- including August reunions between families separated by the 1950-53 war -- as he attempts to build on a rapprochement with Kim.
During his visit to the North Korean capital, Moon will likely seek to narrow the differences between Kim and U.S. President Donald Trump, who have disagreed on the pace of both Kim's nuclear disarmament and a peace declaration between the Koreas, since their historic June meeting in Singapore. The U.S. has said it is preparing for a second summit with North Korea.
Moon Rebounds
Moon's dovish North Korea policy has boosted relations with Kim and helped avert a further drop in his popularity at home. A weekly Gallup Korea poll released on Friday showed his approval rating rose 1 percentage point this week, to 50 percent.
Though small, it's the first rebound for his approval rating in five weeks. Gallup's Sept. 7 survey saw approval sink to 49 percent, falling below 50 percent for the first time since he took office.
While the liaison office is a positive sign for inter-Korean relations, a Friday statement from a researcher at a North Korean foreign ministry think-tank underscored the fragility of rapprochement efforts.
In the statement published by the official Korean Central News Agency, the researcher blasted the U.S.'s move to seek criminal charges and sanctions against a North Korean implicated in the 2014 Sony Pictures hack. He called it "a smear campaign" and said the hacker doesn't exist.
Lingering Antagonism
The statement also said such antagonism against Pyongyang could affect the implementation of the agreements made between Kim and Trump in Singapore, where they vowed to work toward the complete nuclear disarmament of the Korean peninsula.
Some 15 to 20 South Koreans -- and a similar number of citizens from the North -- will staff the new liaison office on weekdays from 9 a.m. to 5 p.m., Seoul's Unification Ministry said.
Vice-minister Chun Hae-sung, a special envoy of Moon who met Kim last week, will be one of the office's two heads.
Chun will hold a weekly meeting with his North Korean counterpart, Jon Jong Su, a vice chairman of a Pyongyang agency that handles inter-Korean exchanges, according to the Unification Ministry.
The Aug. 20 announcement of the office's establishment had raised concerns in the U.S. about whether it would violate sanctions meant to penalize Pyongyang over its nuclear arsenal. But on Thursday, the United Nations Command said it had approved South Korean vehicles and personnel to cross the border into North Korea and begin constructing a communications center at the Gaeseong complex.
The UNC will continue to support the engagement between the Koreas, General Vincent Brooks, its commander, said in a statement. Ensuring communication between two sides is "a way to prevent incidents or crises," he said.
(
Updates with quotes in third paragraph, name in 11th.
)