politics
Pompeo Hits Iran's Leader for Silence on China's Detained Muslims
By
Pompeo Hits Iran's Leader for Silence on China's Detained Muslims
By
U.S. seeking to pressure Iran by restricting crude shipments

China's treatment of Muslim minority under increasing scrutiny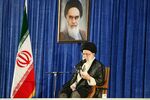 U.S. Secretary of State Michael Pompeo blasted Iran's top leader for failing to speak out over China's reported detention of large contingents of its Muslim minority population.
Iranian Supreme Leader Ayatollah Ali Khamenei "fancies himself the leader of the Islamic world, but his regime has been totally silent as China — the top buyer of #Iran's oil — has persecuted and detained hundreds of thousands of its Muslim citizens," Pompeo wrote on Twitter.

The tweet is likely to cause as much or more dismay in Beijing, where authorities have faced increasing international scrutiny of their treatment of Turkic-speaking Uighurs while also engaged in a trade war with President Donald Trump's administration. Multiple accounts have emerged of secretive "re-education camps" that have detained tens of thousands to "upwards of 1 million" Uighurs, according to a United Nations committee's assessment.
Pompeo is one of the most senior officials in Trump's administration to raise the plight of the Uighurs. Last month, a group of legislators asked Pompeo and Treasury Secretary Steven Mnuchin to restrict the travel and freeze the assets of top Communist Party officials over their role in the persecution of Uighurs.

Why China Has Detained as Many as 1 Million Muslims: QuickTake
China has warned the U.S. not to interfere in its internal affairs. President Xi Jinping's government officially denies problems in Xinjiang, a vast region the size of Alaska bordering Pakistan and Afghanistan that's home to some 10 million Uighurs.
While Iran's oil exports to China have dropped, the Asian nation remained the Middle East producer's biggest customer and its top overall trading partner. All crude shipments since July have been made via the Islamic Republic's own tanker fleet, rather than vessels owned by Chinese shipowners.
Iran recently endured the longest gap without sending oil to China in at least three years, raising speculation that China's refineries are seeking better terms for cargoes as imminent U.S. sanctions pile pressure onto Tehran.
Iran will keep selling oil in spite of U.S. measures to stop the country's crude shipments, President Hassan Rouhani said earlier this month. Tehran is "facing an economic and psychological war, and oil, gas and petrochemicals are in the front line," Rouhani said on Sept. 4.

Governments in Muslim-majority countries from Saudi Arabia to Indonesia have been silent on the Uighurs, even as calls grow in the U.S. and Europe for China to stop its alleged human-rights abuses. This week Anwar Ibrahim, who's in line to become Malaysia's next premier, became the most prominent Muslim leader to speak out against China, calling for formal talks on the crackdown.
Asked in an interview why Muslim governments have largely remained silent, Anwar said: "They're scared. Nobody wants to say anything."
— With assistance by Pratish Narayanan