politics
Republican Super-PAC Mystery Leads to Berkshire Car Dealer Mogul
By , , and
Republican Super-PAC Mystery Leads to Berkshire Car Dealer Mogul
By , , and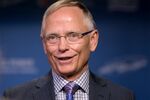 It can be hard to see which millionaires and billionaires are secretly writing six-figure checks to influence politics. When a mysterious company called Blue Magnolia Investments LLC sent $100,000 to help a Republican U.S. Senate candidate in Arizona, it seemed the real donor would remain anonymous.
But an updated filing this week shows the money came from Larry Van Tuyl, who sold his sprawling auto dealership empire to Warren Buffett's Berkshire Hathaway Inc. The check went to DefendArizona, a group working to elect Martha McSally, a Donald Trump-backed Republican who's in a tight Senate race against Democrat Kyrsten Sinema.
Van Tuyl's name came to light after pressure from the nonprofit Campaign Legal Center. It filed a complaint last month with the Federal Election Commission that said Blue Magnolia might have broken federal law -- citing rules against hiding the real source of contributions.
"Had it not been for Tuesday's amendment, there would have been no way of knowing, or even suspecting, that Van Tuyl was the true source," said Maggie Christ, a researcher at the Washington-based group. "Arizona voters now have information they should have had."
The complaint also suggested Highway 76 LLC, which sent another $100,000 to DefendArizona, could be another so-called straw donor. Information on that contribution hasn't been updated.
When Van Tuyl sold what was the largest private car dealership in the U.S. to Berkshire in 2015, he became the chairman of what's now called Berkshire Hathaway Automotive but isn't involved in the daily operations. Buffett, one of the world's richest people, has mostly donated to Democrats. Messages to Van Tuyl and DefendArizona weren't returned immediately.
Van Tuyl sent groups backing Mitt Romney and other Republicans more than $75,000 in 2012. He gave $100,000 in 2016 to Arizonans for Responsible Drug Policy, which opposed legalizing marijuana.