politics
Germany Calls on Russia to Help Prevent Syria Chemical Weapons Attack
By , , and
Germany Calls on Russia to Help Prevent Syria Chemical Weapons Attack
By , , and
German plea for Kremlin to use influence over Syria's Assad

Visit seeks to win German friends for better ties with Moscow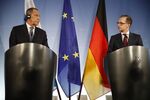 Germany called on Russia to help prevent a chemical weapons attack in Syria and warned of "catastrophic consequences" for civilians in the looming offensive against the rebel stronghold of Idlib.
Foreign Minister Heiko Maas, standing alongside his counterpart Sergei Lavrov in Berlin, said Moscow can exert influence over Syrian President Bashar al-Assad "and we are counting on it to use its influence to prevent the use of chemical weapons."
In his response, Lavrov said Russia will use uncompromising force against what it calls terrorists. In a speech earlier Friday, he reiterated Russian suggestions that "terrorists" might stage chemical-arms attacks to try to implicate Assad and his backers.
As Lavrov visited Berlin in a bid to strengthen Russian-German ties, German Chancellor Angela Merkel traveled to the European Union's eastern edge to meet leaders of the three Baltic nations and visit German troops on a NATO mission in Lithuania.
"We have been trying to engage with Russia time and again, even during the times of the greatest controversies," Merkel told reporters in Vilnius, the capital. But while Germany and Russia agree on seeking to preserve a nuclear deal with Iran, "we have serious disagreements" on other issues, she said.
Russia's standing position is that Assad gave up all his chemical weapons under an international deal brokered by Putin. Backed by Moscow and Tehran, Assad is preparing a battle to seize control of Idlib, cementing victory after a seven-year civil war in which more than half a million people have been killed.
In his speech in Berlin to a group that promotes bilateral ties, Lavrov said Russia and Europe "are destined" to be partners and that the past decade was a time of "lost opportunities" to build closer relations. "Russia does not pose a threat," he said.
— With assistance by Milda Seputyte